Globally, the number of people adopting the Windows 10 operating system (OS) as a replacement for their current operating system appears to be slowing. The early numbers that showed relatively good growth in the adoption rate of Windows 10 may have been due to the somewhat aggressive push tactics utilized by Microsoft.
The average user might not have noticed when Microsoft pushed the Windows 10 installation files to tens of millions of hard drives via Windows Update, without the knowledge or permission of the owners of those hard drives I might add. That little trick may have boosted the take up of Windows 10 by many who might not have otherwise been so quick to switch from their current version of Windows. (Windows 10 Being Downloaded to PCs Whether You Want it or Not).
But, then we caught on. Once word go out about what Microsoft was doing and how they were doing it, various methods of prevention were offered to prevent "Windows 10 creep". That's the slow and devious process of having Win 10 quietly creep into your computer environment bit by bit until, one day, there is no sign of your previous OS anywhere to be seen, and Microsoft's new plan to rule the computing world for another half-century, or longer, has taken you firmly by the nads.
According to NetMarketShare, a site which provides website traffic analysis for thousands of websites, the month of November 2015 showed nine percent of monitored traffic using the Windows 10 OS – that is up only a little over 1 percent from the previous month. Traffic from Win 7 computers during November was at 56 percent, Windows 8 and 8.1 were a collective 14 percent, and Windows XP was still holding on at over 10 percent. So, there are still more people using the venerable Windows XP today than the shiny new, and FREE, Windows 10 OS.

These numbers along with similar numbers from other companies indicate that the uptake of Windows 10 is slowing rather than increasing. It's not unusual for large companies with hundreds of computers to put off updating to a newer version of Windows for long periods in the hope that all major bugs will be worked out before they undertake such a large task.
There has also been much conversation about Microsoft's implementation of various forms of telemetry to collect data on the use and users of Windows 10. Maybe not the best of choices when the extent of NSA and government snooping is still smoldering in our collective consciousness.
This slowdown in the uptake of Windows 10 must have been disappointing news to Microsoft who recently released a major operating system update to general users, rather than test machines only. The hope would have been that the update might give holdouts in the business world the go ahead with updating their army of computers.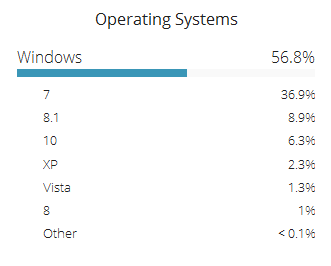 So far, the numbers I've been discussing are global numbers, reflecting worldwide use. In the United States, government statistics indicate that the American population, perhaps more apathetic to privacy concerns than other nations, are adopting Windows 10 at a rate 24% higher than other countries. The sampling was collated by the Digital Analytics Program and is considered rather small. DAP collects data from only 4,000 websites hosted on over 400 different domains maintained by U.S. government agencies. That would include sites such as NOAA, the National Weather Service, Social Security Administration, the Federal Communications Commission, Consumer Protection Agency and the I.R.S.
U.S. government statistics are generally similar to what other firms have shown… that the growth of Windows 10 is largest is the U.S. Statistics also show that the majority of growth in Windows 10 is coming from former Windows 7 users. In fact, more Win 7 users have made the switch than have Window 8/8.1 users. Who would have guessed that!? Many authorities on the subject expected Win 8/8.1 users to the be most eager to update.
I completely avoided Windows 8/8.1, as I did Windows Vista. Both are considered Microsoft's biggest OS flops. Nor have I updated to Windows 10. I just haven't seen a compelling reason, yet, to go through the laborious process of dealing with incompatible programs, driver updates, hardware updates, etc. When I make the change, I will most likely be starting fresh, not updating my current Windows 7.
So, what are you waiting for? Have you made the switch? Will you be updating to Windows 10 anytime soon? Or, will you be more like those who are still hanging on to their tried and true Windows XP after all these years?