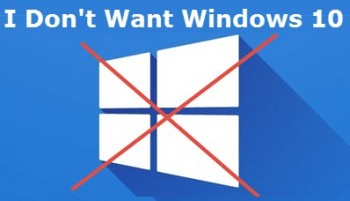 It seems Microsoft is so keen to achieve its "billions of devices running Windows 10" prediction that the company has taken to downloading Windows 10 even to systems where the user has not reserved a copy and has no intention of upgrading. <source>
It should be pointed out that this unsolicited download only affects Windows 7 and Windows 8/8.1 users who have automatic updates enabled. Still, if the reports are accurate, it's a sneaky tactic which once again crosses the boundaries of trust. Besides the obvious trust issue, depriving users of any choice is inherently bad practice as this is quite a large download which has the potential to adversely affect those on limited data plans and/or with limited free space on the hard drive.
Check to see if Windows 10 has been covertly downloaded:
You can find out if Windows 10 has already been downloaded to your system by checking to see if the drive Windows is installed on contains a folder called $Windows.~BT. If it does, Windows installation files have already been downloaded even if you did not explicitly accept the offer (this is a hidden folder so make sure the option to view hidden files and folders is enabled in Folder options).
There have already been reports of similar activity on domain-joined computers but that could be understandable given certain circumstances. However, if these recent reports are accurate and this is indeed occurring on home computers, it constitutes a clear breach of trust by Microsoft. Unsolicited downloading of huge amounts of data eating up bandwidth and disk space, minus any indication that it will ever be required, is simply inexcusable.
Yet Another Trap for Unsuspecting Users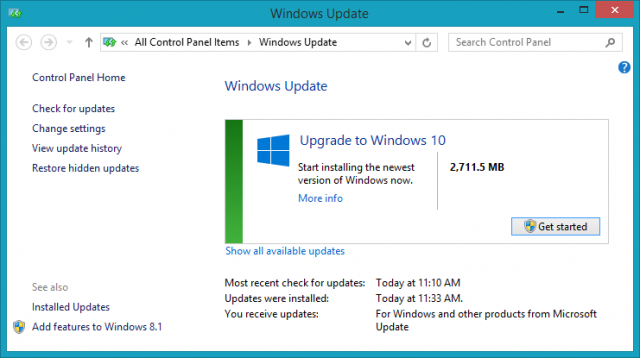 I am running a Windows 8.1 Pro system which I do NOT want upgraded to Windows 10. A couple of days ago I was just about to install a number of important updates when I noticed that the total download size was being reported as 2.9+GBs. On checking through the optional updates I saw that the Windows 10 upgrade download had somehow been enabled, it certainly wasn't done by yours truly. It was easy enough to disable it of course but it's just as well I noticed before proceeding.
So, if you are in the same boat running a system that you don't want upgraded, and Windows 10 is showing ready for download (as per the above screenshot), I suggest you check carefully prior to installing any updates.