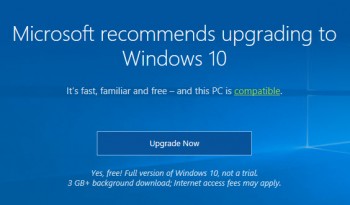 Microsoft's relentless push to meet its proclaimed goal of more than 1 billion devices running Windows 10 continues unabated. Microsoft's approach has actually been helpful for users who might want to upgrade but, for those who do not want to upgrade, the incessant notifications and in-your-face tactics have not been well received.
Back in early September we reported how Microsoft was pushing the Windows 10 upgrade unsolicited on to some systems. (Windows 10 Being Downloaded to PCs Whether You Want it or Not). Microsoft subsequently explained this as an unfortunate "accident".
According to a recent post on the official Windows Experience Blog, this "accident" may soon become a reality for millions of Windows 7 and 8 users. Microsoft is planning to deliver Windows 10 as an optional update for all users "soon", in order to make it easier for users to find.
We will soon be publishing Windows 10 as an "Optional Update" in Windows Update for all Windows 7 and Windows 8.1 customers. Windows Update is the trusted, logical location for our most important updates, and adding Windows 10 here is another way we will make it easy for you to find your upgrade.
Optional updates are not normally installed by default but, based on previous experience, I'd advise checking through them very carefully.
Then, early next year, Microsoft plans on re-categorizing Windows 10 as a recommended update which means the upgrade process will then be automatically initiated on systems configured to install recommended updates automatically along with important updates.
Early next year, we expect to be re-categorizing Windows 10 as a "Recommended Update". Depending upon your Windows Update settings, this may cause the upgrade process to automatically initiate on your device.
According to Microsoft, users will receive a warning prompt when this happens so they won't inadvertently install the new OS. However, it may be a wise precaution to disable automatic installation of recommended updates altogether.
Change Windows Update Settings
Go to Control Panel > Windows Update and click Change settings (in the left hand pane). Then disable the option to "Give me recommended updates the same way I receive important updates".
Or, do as I do and set Windows Updates to "Check for updates but let me choose whether to download and install them".
I've always tended to defend Microsoft but in the case of the Windows 10 upgrade debacle, it's difficult to imagine how Microsoft could get any more offside with consumers. The powers that be are obviously intent on pushing Windows 10 down everyone's throat, with very little consideration for those who don't actually want it.
For the record; my stance is that all Windows 7/8 users should take advantage of the free Windows 10 upgrade offer before it expires in July next year. I also appreciate the reasoning behind Microsoft's push for Windows 10. However, Microsoft should have provided a clear opt-out solution for users who have no intention of upgrading to prevent the constant bombardment of unsolicited notifications and potential for accidental upgrades.