Just recently I upgraded my Windows 8.1 system to Windows 10 and things did not go smoothly. This is a very new machine, only 4 weeks old, so hardware incompatibilities were pretty much ruled out. Besides, the 'Get Windows 10' notification assured me of full compatibility: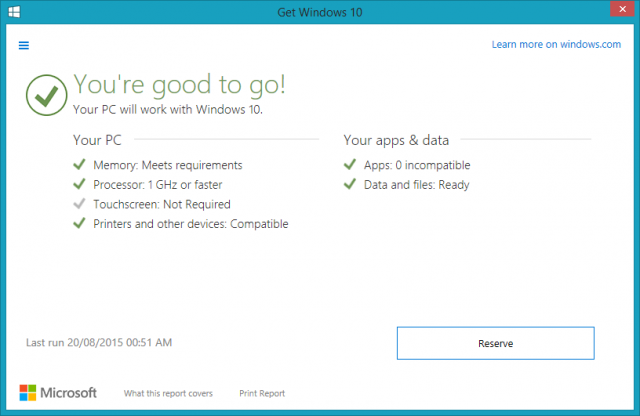 So, I proceeded safe and sound in the knowledge that everything would surely be fine. The upgrade seemed to meet expectations, no issues along the way, but then during the course of setting things up I noticed that none of my apps would open – just a flash of the outline and then nothing. I tried a shell command to re-register store components but that just threw up errors. Next I tried the "sfc /scannow" and "dism /online /Cleanup-Image /RestoreHealth" commands in an elevated command prompt but both reported zero issues.
For the next 2 days I spent countless hours with Microsoft tech support trying to resolve the issue, all to no avail. In the end I was forced to try a Reset, which meant, of course, losing all my installed programs. It did fix the problem however and also provided a clue as to the cause. The reset process compiles a log of removed programs and presents you with the list on completion. Among the removed programs was a heap of Intel based software and, although I cannot be 100% certain, I'm pretty sure it was one of these which caused the incompatibility.
Case #2

Regular DCT reader "Myles" started a thread on the forum seeking help with an upgrade from Windows 7 to Windows 10 which had gone awry. With Windows 10 apparently not working properly, Myles took advantage of the option to roll back to Windows 7 only to find that his system was now completely unbootable.
Thankfully, the machine in question included a hidden recovery partition which we were able to help Myles access and then restore the system to factory settings. Not an ideal solution but at least it got Myles up and running again. It also suggests that whatever issues messed with the upgrade might also be responsible for messing up the rollback.
Case #3
A friend and client rang me this morning with the news that he is experiencing several issues after upgrading from Windows 7 to Windows 10. The main problem being that he is unable to save files to personal folders, he keeps getting those annoying "permissions" messages, even though he is signed into an administrator account. I suggested he connect to Microsoft support via the Windows 10 built-in app, which he duly did. Following a remote session lasting many hours he rings me to say still no joy. I'm thinking it may be a corrupted user profile so I'm heading over to his house whenever time permits to see if  I can maybe fix it for him.
Windows 10 Upgrade – Notes & Suggestions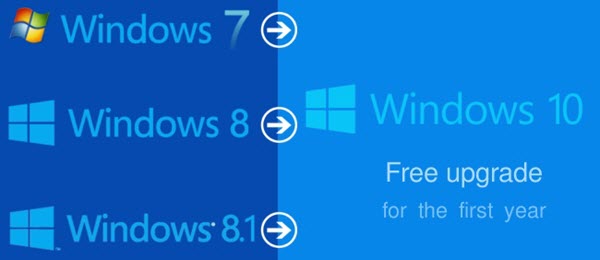 First off, I have to say that, overall, the number of users experiencing these sorts of issues is relatively small. However, it seems that when problems do arise, they are often very difficult to overcome. It also seems to me that Windows 7 running on older hardware is more susceptible to upgrade issues than Windows 8.1 running on newer hardware, possibly because of older drivers not supporting the new operating system.
*PLEASE take the precaution of creating a system image and saving it to external media before going through the upgrade process. Should the upgrade and the roll back process both fail, then at least you'll have a good fallback option. There are a couple of very good free imaging programs available for creating, saving, and restoring full system images – Aomei Backupper Standard and Macrium Reflect Free.
*If you are experiencing issues following an upgrade, you can contact Microsoft Support (free) from within Windows 10; see this article here: How To Get Free Microsoft Tech Support from Within Windows 10
Lastly, Microsoft has just released a new Windows 10 build (10525) to "Insiders" for testing purposes. Coming so close (just a few weeks) after the official release tends to suggest that Windows 10 is still a work in progress. At this stage, I would not be overly anxious to upgrade, especially if you are upgrading from Windows 7 running on older hardware. Hold off for a few months and, hopefully, many of these issues will have been resolved by then.