In a recent article I mentioned how my upgrade experience from Windows 8.1 Pro to Windows 10 Pro has been a bit of a nightmare, well a lot of a nightmare to be honest. The one redeeming factor in the whole mess has been the terrific tech support from Microsoft. I hadn't realized it but Windows 10 includes a tech support chat app which easily and quickly has you connected with one of Microsoft's experts to help resolve issues.
Here's How: (*NOTE: you need to sign in with a Microsoft account to use the app)
Open the Start menu and type in "Contact Support". Then click on Contact Support at the top of the list of results: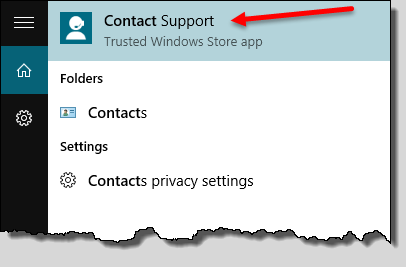 Once the app opens, you'll need to go through and select several options. The first is pretty obvious, for issues relating to the operating system itself choose the second option:
Next, you'll be asked to narrow it down by selecting a particular app. If the issue is general and not associated with a specific app, just click "Windows":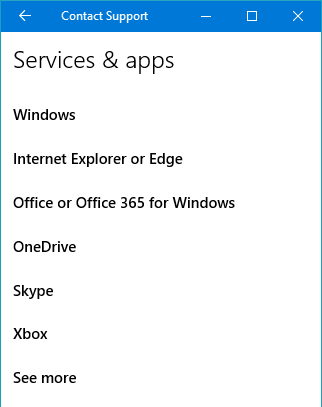 Next, select what type of support you're after – most will want to choose "Technical Support":
Lastly, click "Chat online with a Microsoft Answer Tech":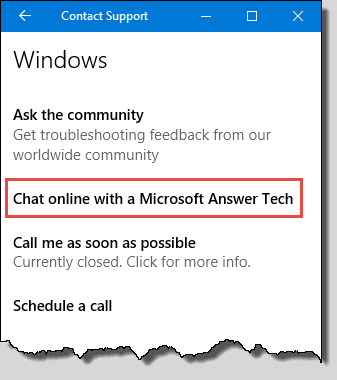 Now just sit back and wait for one of the experts to answer. In my experience, wait times were relatively short, from 5 – 10 minutes. When the chat session opens, using the app is very easy and similar to most chat apps, your tech support's questions and responses are displayed in the main pane in blue and you just type into a panel at the bottom of the window.
It really is a handy service, the tech support people are friendly, knowledgeable, and keen to help, and a remote session is readily available if/when required.