Back in February this year we published an article speculating on what might happen with the Windows 10 upgrade once the free offer expires on July 29th – would the offer be extended or would Microsoft stick to its guns?
According to a Microsoft announcement published late last week, that question appears to have now been answered:
Time is running out. The free upgrade offer will end on July 29 and we want to make sure you don't miss out. After July 29th, you'll be able to continue to get Windows 10 on a new device, or purchase a full version of Windows 10 Home for $119. <source>
Microsoft video: Windows 10 Free Upgrade Offer to End Soon:
So, it seems Microsoft is indeed sticking to its guns and the free upgrade offer will expire on 29th July as originally stated. Of course, that doesn't necessarily mean the price of the upgrade won't be lowered at some time after 29th July. With Microsoft's obvious eagerness to see as many users on Windows 10 as possible, I'd expect to see some kind of discount on offer.

Windows 10 Market Share
While on the subject of Windows 10; the latest statistics from NetMarketShare show Windows 10 now well ahead of both XP and 8.1, and steadily making ground on Windows 7.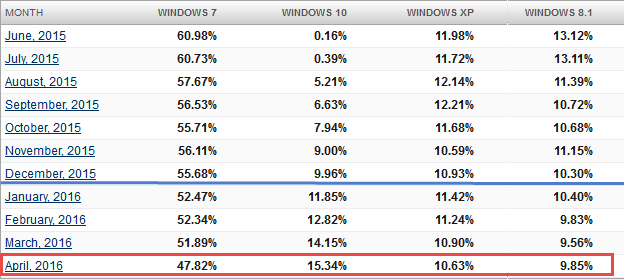 As you will see from the above screenshot, this trend has been accelerating throughout the current year and I'd expect to see even further acceleration as we get nearer and nearer to the free upgrade expiry date.