This is the third installment in the Using Browser Extensions series.
Reminder: As always, please be sure to have virus and malware protection prior to downloading unknown software. Google and Firefox vet their extensions, but there is always the chance that a piece of malware can be contained in any downloaded file.
Utilities


This post will be covering a wide range of items under the category of Utilities. For me, a utility extension will either perform a task, offer you a feature not otherwise available or provide you with a way to do things.
Some examples are: To-do lists, image converters, maps, clocks, etc.
TechSmith Snagit – (5 Star) (Free) (Browser: C) (Conflicts: None)
One of the most common extensions out there are screen capture programs. We have all been on a web page or had a problem with an application on our computers where it would be nice if we could just get a screen shot without saving the page or performing a full screen capture. With TechSmith Snagit for Chrome, you can take screen shots or recordings of anything on your screen including your browser, desktop and even applications. Once you capture your image, Snagit will open in a new tab where you may add text, shapes or arrows to express exactly what matters.  Using the new tab, you can easily create a web link to share the new image you created with others or download it to your system. Here's an image I created to demonstrate.
Pros: A great way for anyone to capture and share images. Integration with Google Chrome means you can save your files on Google Drive and access them from anywhere.
Cons: No Firefox Version
Nimbus – (5 Star) (Free) (Browser: F) (Conflicts: None)

Nimbus is the screen capture Add-on for Firefox.  You may save the captured image directly to your hard drive, clipboard or even send it to Nimbus for additional functions.
Pros: Easy way to capture images to save or put right into another application.
Cons: You must sign up with Nimbus to comment and share your images.
Getty Images – (5 Star) (Free) (Browser: C) (Conflicts: None)
One of the features I like when using Bing is the daily image used in the background. I have always found it a nicer home page than the plain white Google Search window. However, now with Getty Images, your Google Home page will look just like Bing, including the news carousel at the bottom of the screen. Instead of using the Microsoft search engine, you will be using Google and the carousel is a collection of Getty images, not the news as it is in Bing.  Kind of like getting the best of both worlds if you are a Google fan. What is even better than Bing's daily images, is that Getty Images will change every time you open a new tab.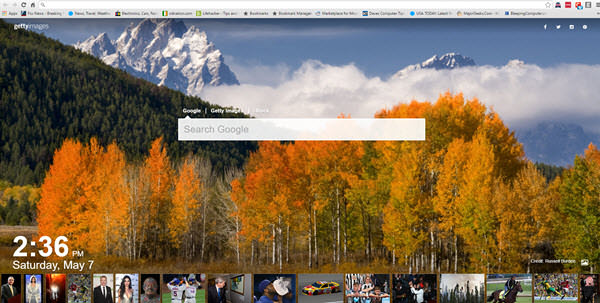 If you find an image you really like, you may click on it to link to other similar images or even purchase it as a wallpaper for your computer.
Pros: Very interesting images on every new tab with the ability to locate other similar images.
Cons: Only for Chrome.
Click & Clean- (5 Star) (Free) (Browser: CF) (Conflicts: None)


If you like impressively simple programs, Click & Clean is one of them.  A nice set of tasks laid out in a Windows 10 Start Menu style. Just click on the red and white "C" logo in Chrome and the Blue logo for Firefox and a drop-down menu appears giving you a chance to view the Main, Chrome or System options.
To be honest, I think this is how Chrome and Firefox or any browser for that matter should look. Compare this with the standard drop-down and you will see what I mean. Everything is not only right there at your fingertips, it is presented in a graphical interface that makes it easy to understand. You can perform features that can't be accomplished in Chrome alone. You can block the access to the History page in chrome, randomly select cookies to delete, remove selected items from history,  and you can even set any of the three predefined cleaning modes: Low, Medium and High.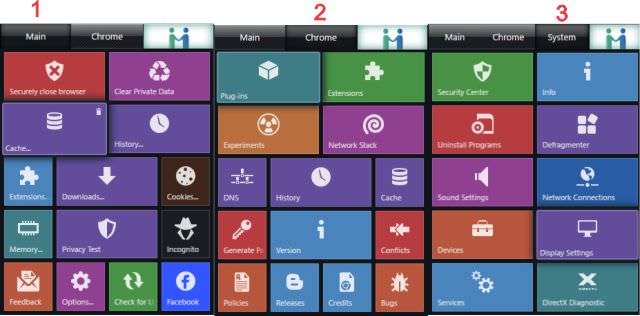 Pros: This is a quality tool that does not slow the browser down and gives you unprecedented access to the features in Chrome.  The drop-down menu presents you with three options: the Main, Chrome and the System menus.
Cons: The Firefox interface is different in looks and how it is accessed. Is not as robust as the Chrome version.
Tin Eye – (5 Star) (Free) (Browser: CF) (Conflicts: None)

TinEye, an official Chrome extension has been around for quite some time. There is also a TinEye Firefox Add-on. It will help you find exactly where an image originated, how it's used on the web and even find higher or different resolutions if available. If you are on the web, just right click the image and select, "Search with TinEye". The search will begin in a new tab and in, usually under 10 seconds, it will search billions of images, catalog them for you and provide additional information. In one keyboard photo I checked, it showed that it appeared on 96 webpages. You may even load an image from your computer to see if it appears on the web. This is a great way for graphic designers to track copyright infringement.
Pros: Extremely fast and informative.
Cons: None
CrxMouse – (5 Star) (Free) (Browser: C) (Conflicts: None)
CrxMouse is an extension that offers you the ability to navigate your browser using mouse gestures.  Simply right click and swipe the screen to achieve any of the preset actions. Slide the mouse left to go back, down or up to scroll, or make an L to close the tab. You can set up to 13 gestures.
Pros: Once you get the hang of it, you can pretty much leave the keyboard alone. The extensions will allow you to post blacklist pages so the gestures won't work on those pages.
Cons: Does not work on the Google page. No version for Firefox. However the Mouse Gestures Suite is available for Firefox and appears to be its equal in every way.
Kami – (4 Star) ($2.00/Mo.) (Browser: CF) (Conflicts: None)

Kami for Chrome, and Kami for Firefox, is a great tool for viewing PDF files, but unlike the PDF viewers already installed in your browser, Kami offers a lot more than just a nice viewer. It can convert the PDF, Word documents, Presentations, and images into editable text; you may underline, highlight and comment in the PDF document. In the Pro version, $5.00 per month, PDFs become documents that you can annotate, share or collaborate on from within Chrome, and Chrome Drive. The free version provides advertising, but allows you to view and annotate PDFs.
Pros: Great tool for students and business people.
Cons: The free version is severely limited and truthfully, a monthly fee is a bit much.
Mic Note – (5 Star) (Free) (Browser: C) (Conflicts: None)

Mic-Note Voice Recorder & Notepad is a pretty cool tool. You can literally take notes and record remarks at the same time. Ten minutes of recording in the free version.  The extension can take photos when needed and insert them into your notes. Using the Hot-Pad button, you may mark items as important, To-Do, or as a Question. The app helps you take notes for recordings but it doesn't provide speech-recognition functionality.
Upgrade to the pro version for considerably more ability.  For Only $14.99, it will record four hours and allow for 100 photos. That is ten times more than the free version. It also allows you to edit, trim and delete recordings.
Pros: Very nice tool for transcribing thoughts or speech into written form.
Cons: Voice to text is not supported yet.
Showgoers for Netflix – (5* Star) (Free) (Browser: C) (Conflicts: None)
Just the thought of the Showgoers for Netflix extension makes me smile. I only mention this extension because I can think of the times when this would have been great to have. There were many years that my work left me out of state for weeks at a time
and being able to sit down and have a movie night with my kids would have been great.
Young or old, this looks like something that would be fun.
This might be the only extension I will not try out myself prior to the release of this post and my rating is based on reviews only. I normally vet each of the extensions, but this time I will rely on the reviews. This extension received only three reviews under Four Stars in the first 50 reviews I checked.
The instructions are easy enough.  Everyone must be signed into Netflix before opening the invite URL. Have this extension installed, and your friends just have to click on the invite.
Pros: The ability to share a movie night with you children, spouse or friends when separated by distance is a cool thing.
Cons: Only that I did not get a chance to test this extension.
TCPIPUTILS – (4 Star) (Free) (Browser: CF) (Conflicts: None)
The TCPIPUTILS  extension offers a very nice interface and is extremely easy to use. It gives you tools to view detailed information about web sites you might be interested in visiting or even checking the one you are on. It includes tools like Ping, Who-Is, Domain Search, DNS lookup and much more. While this extension might not be for the average internet user, it is a nice way to gain this information for those that want.
Pros: Very easy to use interface with quick, easy-to-read results.
Cons: Opens in a different tab.
Note: SmartWhois for Firefox performs some similar functions.
Photomania – (5+ Star) (Free) (Browser: CF) (Conflicts: None)
Photomania – Frankly, extensions don't get much cooler than this. Take any online image, or upload one of your own and instantly change it into a unique expressive image to fit your needs. There are only three basic categories: Artistic, Fun and eCards but they each lead you to an almost endless number of possibilities.
Choose Artistic, and your sub-choices become Camera, Painting, Magical, Vintage, Textures, Cartoon, and Pop Art. Select any of those, and you will be presented with several additional options. You may easily share to Facebook, and download or print your image. In the image below there are only a few examples of what this extension can do.  It is a challenge to stop playing around with this one.
Pros: As a graphic designer, I can appreciate the effort put into creating an application that transforms images as quickly and as imaginative as this.
Cons: None on the application, but a caution that when using online images you should ensure that it is in the public domain and not copyrighted.
Summary
The Utility extensions appear to vary more between browsers, with some made specifically for a certain browser. In most cases I tried to include an alternative if possible for the other browser. Utilities also run the gamut from fun to function. They all have the ability to be turned off when not needed, but none of the extensions I tested had an adverse effect on my browsing speed.
In some cases I had as many as ten extensions open at the same time. Not something I would normally do and I only did it to write the reviews but was pleasantly surprised at the minimal impact they did have.
So don't be afraid to give them a try.
Jim
Using Browser Extensions – Utilities

← You are here
—