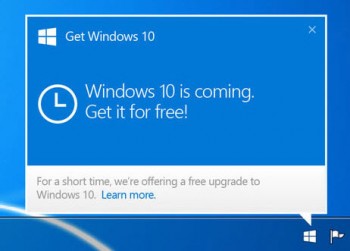 The Windows 10 free upgrade period has now passed the half way mark with just over 5 months left until the July 29th, 2016 deadline. But, will Microsoft in fact cut off the free upgrade as per schedule? That, my friends, is the burning question.
It's abundantly clear that Microsoft wants to rid itself of the older operating systems and create one big happy Windows 10 family, and it seems to me that the free upgrade offer is integral to that end. On January 4th, Microsoft reported that more than 200 million users have upgraded to Windows 10, double the number of users who upgraded to Windows 8 over the same time frame, and that, in my opinion, is largely down to the free upgrade offer. However, the numbers are still a long way off Microsoft's projected 1 billion devices and they are obviously hungry for more.
So, what will happen after the free upgrade offer expires on July 29th? I see 2 possibilities:
1) Microsoft Sticks to Its Schedule and Users Will Have to Pay for Windows 10
History certainly suggests that this is a distinct possibility. The upgrade to Windows 8 was on offer for a limited time at a heavily discounted price and, true to its word, Microsoft duly ended the offer after the advertised time frame. However, Microsoft's goals with Windows 8 were an entirely different kettle of fish to what they are hoping for with Windows 10.
In short, because of the aforementioned reasons, I see this as an unlikely scenario.
2) Microsoft Extends the Free Upgrade Offer
This, in my opinion, is the most likely scenario. However, it's highly unlikely that Microsoft will extend the free upgrade offer indefinitely, that would remove the fear of loss and seriously dilute the "carrot" effect. There are a number of significant events coming up which I believe would fit in nicely with an extended deadline.
*October 31st, 2016: is when OEM sales of Windows 7 Professional and Windows 8.1 officially end.

However, I think this may be a tad too close to the existing deadline. One aspect of this which Microsoft will be keen to sustain is the belief that the free upgrade period will come to an end. So it would be in the company's best interests to avoid crying wolf too many times.
*31st December, 2016: a new year has traditionally been considered timely for the introduction of new rules/parameters. I see this as a real possibility.
*17th July, 2017: this is the date when Microsoft plans on ending support for Windows 7 and Windows 8.1 on hardware based on the latest generation Intel Skylake CPUs. It makes perfect sense for the end of the free upgrade offer to coincide with this event because it not only includes the carrot but also a bit of the stick.

So, I'm guessing that Microsoft will either a) first extend the free upgrade offer until 31st December 2016 and then extend again until 17th July 2017, or b) simply just extend the once, until 17th July 2017.
Of course this is all pure conjecture on my part. At this stage, I seriously doubt that even Microsoft knows what it will doing in 5 months time. It's probable that the decision won't be made until late in the piece and it almost certainly won't be made public until the very last minute.
What do you think might happen after 29th July?