Microsoft has announced that Windows 10, the anticipated successor to the slow up-taken Windows 8, will be released free of charge to Windows 7 & 8 users who upgrade during the first year after the new operating system's official release.
The free release will apply only to upgrades, and won't be distributed free of charge as a fresh install but, although I can't really say I'm surprised they have taken this step, I am still nonetheless taken aback with the news we can expect a free upgrade.
According to recent estimations by Frank Gillett, an analyst at the Forrester consultancy, Windows 8 only accounts for around 10% of operating systems currently installed on home computers and the adoption rate throughout the business world is even worse, so the temptation to upgrade free of charge from the likes of Windows 7 is considerably greater than it was, at least for me anyhow, and I expect current W8 users will have no real difficulty taking the plunge. Unfortunately for those who already paid to jump to Windows 8, no refunds are on the horizon!.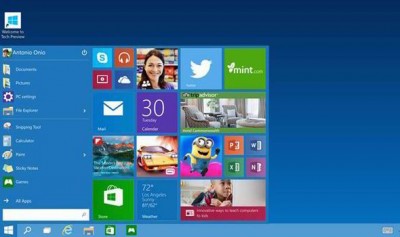 Windows 10 is set to include "Cortana" – the voice-controlled digital assistant previously limited to Windows Phone handsets – which could potentially be used to launch applications, write emails or blogs, and can even be set to vocally alert you to the fact you should consider wearing a jacket or take a brolly because it's already checked your local weather forecast!!
Whatever else is in store for Windows 10, Microsoft know they must regain the interests of both the users and developers who have all but since ignored or abandoned W8, and to release the next OS upgrade for free is a last ditch attempt (in my view) to breathe life, and interest, back into the struggling sectors such as desktops and laptops whilst at the same time trying to capitalise on and extend their reach into the mobile market, such as smartphones and tablets.
One things for sure, if Windows 10 fails to excite or impress and has a similar poor uptake rate to Windows 8, it won't likely be the price to blame!!