If you have stopped using Internet Explorer (any version), then good for you! I know there are some die-hards out there who are still hanging on to Windows XP for goodness sake, so anything is possible I guess. According to NetMarketShare, there is still a 9.83% usage of this infamous product. Unbelievable! Now that Microsoft has begun using the Chromium engine to power the new default browser, Edge, there is absolutely no reason to stick with IE or even to have it enabled on your system. This week's Quick Tips article will show you how to disable this archaic security risk.
IE Is Bad Even If You Don't Use It
Microsoft was notified of this security risk in IE 11 back in March and this was their response:
We determined that a fix for this issue will be considered in a future version of this product or service. At this time, we will not be providing ongoing updates of the status of the fix for this issue, and we have closed this case.
Well, so much for that! Even if you don't use IE 11 you are still at risk. ZDNet has published a report describing this exploit in detail. And since Microsoft has basically refused to patch the problem, the researcher who notified them decided to publish the exploit code online! Yep! You read that right. I guess he figures, "that'll show 'em!"
Even though this Quick Tips article is aimed at Windows 10 customers, this problem affects Windows 7 and Windows Server 2012 R2 systems as well. Windows 8 is conspicuous by its absence. Hmmm…
How To Disable IE 11
Open Control Panel (you can open Control Panel by clicking the Start button and typing control panel, or you can read this
Windows 10 Quick Tips – Control Panel article to learn how to create a handy shortcut)
Choose Programs and Features
In the window that opens, choose Turn Windows features on or off (it's a link sitting in the left panel of the window)
That should bring you here: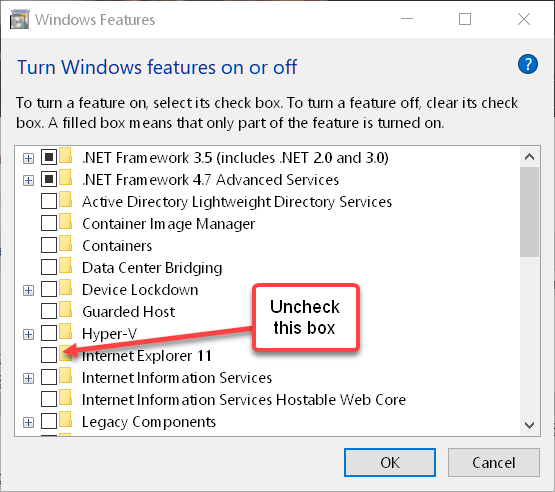 Uncheck the box labeled Internet Explorer (any and all versions) and click the OK button. Windows will prompt you to reboot your computer for the new setting(s) to take effect. Make sure you have all your work saved before doing so.
This won't actually remove IE 11 from your system. IE is too ingrained into the operating system to truly remove it, but at least this will disable it which is a good start.
Any modern browser is a better choice than the old Internet Explorer versions. Edge has matured and is now a viable choice. Most people like Chrome these days– I don't like it but each to his own. I use Waterfox (a 64-bit Firefox spin-off) because it supports some legacy plug-ins that I can't seem to live without. I'll say it again– anything is better than IE. Period. If you tell me that you're used to it, then I'll say, "Get used to something else."
If you tell me that you're afraid of losing all your Bookmarks, or Favorites, or whatever your browser calls them, then I'll tell you that any modern browser can import them from most any other modern browser, including IE.
Stop using IE– the security risks are simply too great.
As always, if you have any helpful suggestions, comments or questions, please share them with us,
Richard
—