Control Panel is AWOL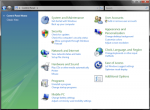 In the latest iteration of Windows 10, the Creators Update, the WinX menu is different. Conspicuous by its absence is the Control Panel. Microsoft is slowly but surely replacing the time-honored Control Panel with the Settings App. As time passes, and with each new "Update/Upgrade", I get the sense that the whole Operating System is progressively getting dumbed down. It reminds me of our government.
During earlier days when I used the Control Panel, I always set its view to Small Icons rather than Categories. I did that because I could never remember which category contained the function I sought. The small icon view showed me everything on one screen. I like that.
Not so with the Settings App; we're back to categories and they have once again taken control away from the User. I hate that.
If you are interested in having a handy Control Panel icon on your Desktop, Taskbar, or Start Menu, then this week's Quick Tips article is for you. Read on…
Control Panel Pinned to Taskbar or Start Menu
Pinning the Control Panel shortcut to either the Taskbar or to the Start Menu is simplicity itself.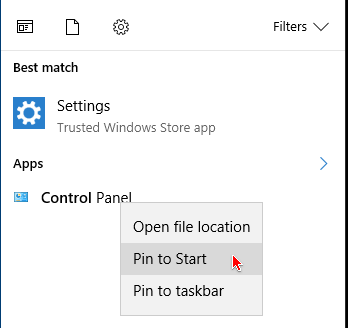 Click the Start Button (or hit the Windows Key)
Type Control Panel
Right-click the Control Panel entry
Choose either the Pin to Start or the Pin to taskbar option in the context menu
That's all there is to it!
Control Panel Desktop Shortcut
If you would prefer a Desktop Icon for a quick way to access the Control Panel, then do the following:
Follow steps 1 through 3 in the above section
This time, click on Open file location
That should open File Explorer like so: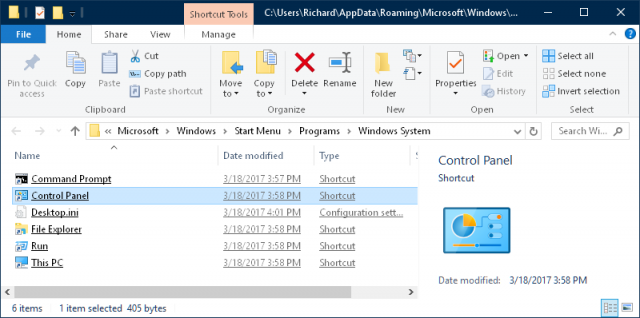 3. Right-click the Control Panel entry and choose Copy

4. Pick an empty spot on your Desktop, Right-click and choose Paste
That should place a convenient Control Panel icon on your Desktop. You now have a shortcut that will easily bring you to the beloved Control Panel in all its glory: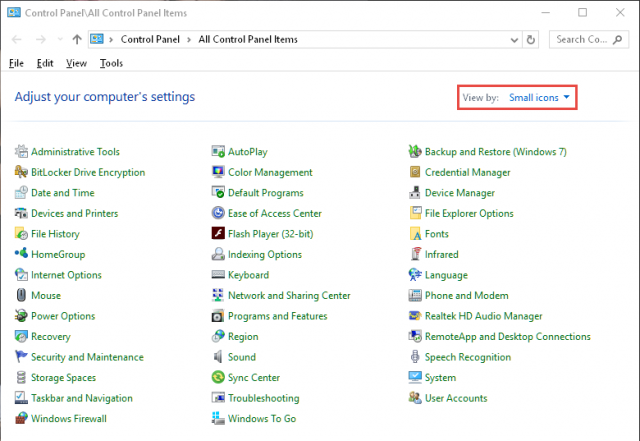 Please note that Small Icons is chosen as the default view in this case. To my way of thinking, this is preferable to having to remember which category each entry is in such as is the case with the new Settings App. I don't know who decides under which category a particular function should abide. For example, there are display-related settings in both the System category and the Personalization category. Give me a break, Microsoft! Put 'em all in one place! The Settings App is a convoluted mess. Why should I have to run an Internet search every time I want to know the location of a particular setting? Or have to click on one category after the other until I stumble upon it? At least give me the option of seeing everything in one place, pleeeze.
I don't know how much longer the Control Panel will stay with us, but I sincerely hope it is for a long time to come,
Richard
—