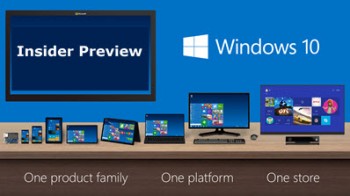 So, about 3 or 4 weeks ago, in my Windows 10 Insider Preview build, I started getting this message through Update & Security… "There's a problem with getting preview builds. Your preview build settings need attention. Go to Advanced options to fix this issue." I go to Advanced options and am greeted with the message… "Your security settings need attention to get Insider Preview Builds", with an associated "Fix me" button".
So I click the button and Confirm, then restart as requested. Same messages, same procedure, over and over, round and round in circles. Nothing gets fixed, still unable to receive new builds.
I spend hours searching for a solution online, try a myriad of suggestions all to no avail. Finally, I come across a solution which actually works – well it did for me anyway. Here's how:
Step 1: Change a registry value:
What we are going to do here is change the value for the EnablePreviewBuilds entry from zero (false) to one (true):
Bring up a Run dialogue box by pressing the Windows + R keys, type in regedit and then press Enter.
In the registry editor navigate to and click on the following entry: HKEY_LOCAL_MACHINE\SOFTWARE\Microsoft\WindowsSelfHost\Applicability
In the right hand pane the value for EnablePreviewBuilds will be shown as zero
Right click EnablePreviewBuilds and select Modify
Change the 'Value data' to 1 (one) and click OK
The data value should then be the same as shown in the following screenshot:
Close the registry editor
Step 2: Back to Update & Security
Go back into Settings > Update & Security > Advanced options and click on the Fix me button
A window should now open asking you to sign into your Microsoft account. Do so and you should now be back getting Preview Builds again
Adjust the slider to suit your preference – Slow or Fast, and you're all  done.
*If the "Get Insider Preview builds" option does not correct itself immediately (mine did), try a restart.