The latest version 7.0 of PicPick was recently released and includes an improved capture interface, some improvements, and new functionality – specifically, a new delayed capture function.
PicPick is a free for personal use screen capture tool.  PicPick's capture options include full-screen, active window, scrolling window, region, and freehand. In addition, PicPick has a range of built-in editing and annotation tools. PicPick also offers a portable version. PicPick is a Jim Hillier favorite and has been discussed here on Daves Computer Tips multiple times making the 10 Best Freeware Picks – 2022, the 50+ Best Free Portable Applications – 2020, and the Best Free Portable Screen Capture Tool.
The delayed screen capture can be set in the settings by selecting Capture and Time Delay. The delay can be three, five, or ten seconds. The screen delay is available for all capture types after the setting is made. Selecting No Delay will turn the delayed capture off.
In addition, the time delay can be set from the PicPick system tray icon. When the delayed capture function is started, the Windows screen will have a countdown timer in the lower right-hand corner and the computer will beep at every second interval countdown.
Note: I used the delayed capture to successfully take various delayed screen captures. But, I was not able to get the following delayed image. I needed to use Snagit (a professional screen capture utility). Apparently, PicPick's delayed capture function interferes with its own system tray icon.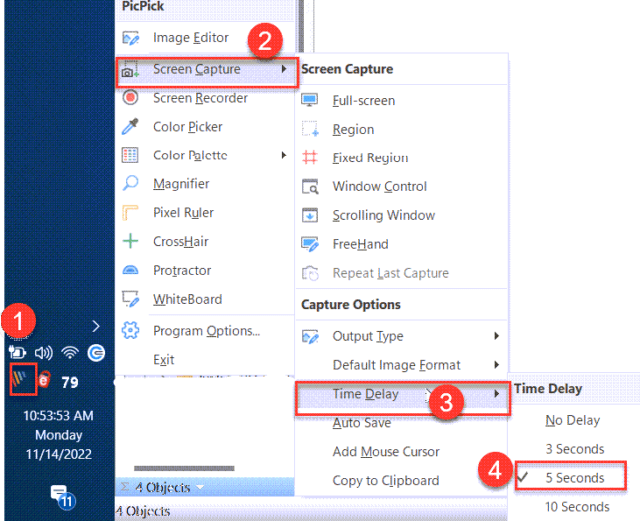 —