Mirillis Action!
In two previous articles How to Record Your Video Game Action Part 1 and Part 2, I reviewed numerous game recording programs, including Mirillis Action! which I was using as a trial at the time. I was so impressed with the program that I bought it on special offer at Steam a few months ago and am happy to say that it's the best screen recording software I have ever used by a very wide margin. I'm not being sponsored by Mirillis in any way, but seeing as this is a program I use almost every day (like the venerable Snagit), a major update such as this is worth shouting about.
Simple and Easy-to-Use Interface
The interface of Action! in the new V2.xx version has been completely overhauled and is clean, very intuitive to use and gives you complete control over the program. The menu bar at the top opens to a further menu bar underneath and all the options can be changed quickly in easy-to-understand options, unlike some other game recording programs that are far more complicated to use than they need to be. I really like the handy video thumbnails that are shown on the left, giving you all the necessary information such as duration, resolution and size on disk.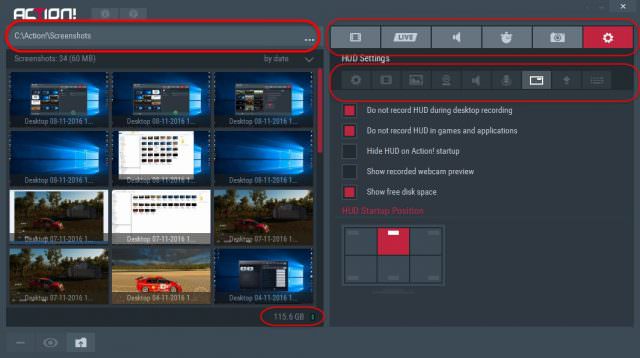 The default save location for screenshots and videos can be changed if you're running low on disk space and a handy indicator is shown just below your saved work, showing available disk space for saving. Not only that, but the HUD also shows free disk space and since the HUD can be visible during recording, it's handy to know how much space is actually being chewed up on your computer.

Record in High Quality and FPS
You can record in a variety of FPS (frames per second) between 15 and 120 fps, but the norm nowadays would be 1080p at 60 fps, which is great for YouTube videos. The formats available are AVI, MP4 and GPU hardware decode for either AMD or Nvidia. Hardware decoding is preferable in either the Nvidia NVENC or AMD APP as this takes the work from the CPU and directs it to the GPU, usually producing a much smaller file size.
New options include recording in ULTRA quality, so if your graphics card and processor are powerful enough you can record in the highest native resolution of your monitor at 120 FPS in ULTRA quality, bearing in mind, of course, that the higher the quality, the bigger the file size.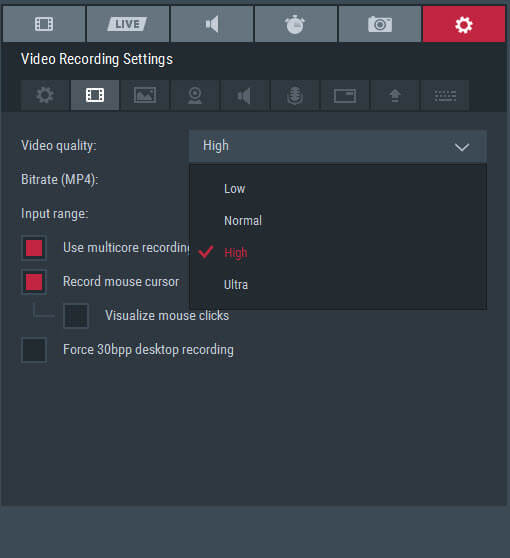 Upload Videos Directly to Facebook and YouTube
Although I prefer not to allow third parties access to my information, this is a handy feature which allows you to upload from within the Action! interface, bearing in mind that Facebook has a limit of only 100MB and two minutes of video. I've tried both methods and the uploads finished flawlessly, however I prefer to upload directly to YouTube for complete control. Live streaming is also possible supporting numerous services including Twitch, Hitbox and YouTube, but I haven't as yet tested that function.
Here's me shamelessly mistreating an Aston Martin Zagato in Miami, recorded in 1080p, high quality and at 60 fps.
As I mentioned at the beginning of the article, neither I nor DCT is affiliated with Mirillis in any way, but I do highly recommend this recording software. It is without doubt the simplest, most efficient and well designed of all game/desktop recorders I've ever used.
It can be bought directly from Mirillis or Steam , although, at the time of writing, it appears to be half the price at Mirillis.
—