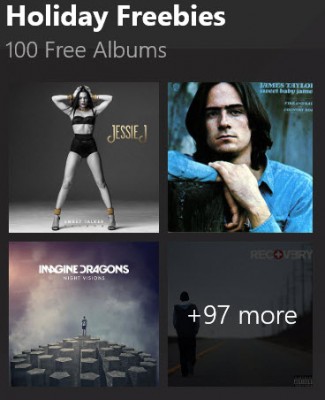 Microsoft's generosity of late has been nothing short of astounding. Not only did they give away Visual Studio 13 Update 4 and Microsoft Expression Web  last week, but they are now giving away a ton of music. I just downloaded nearly 4GB of titles and didn't put a dent in the list of songs they are offering. Amazing!
Go to Microsoft Is Giving Away Very Expensive Software for the previous VS Studio and Expression Web giveaway article.
Of course, you'll need a Microsoft account and the XBox Music Player installed on your Windows 8.x computer. You are not limited to listening online, however. You can download all these tunes as MP3 files to listen to when you're off-line if you have an MP3 player you'd prefer to use. That's what I do.
You can get the Music Deals App at the Windows Apps Store. http://apps.microsoft.com/windows/en-us/app/music-deals/dce9fff9-2b8b-4610-815c-12d109934cbc
For the Windows Phone 8/8.1 go here: http://www.windowsphone.com/en-us/store/app/music-deals/19c720ef-fe0a-41bc-b323-b5c1d2aa5e97?signin=true
Note: I've read comments by non-US citizens saying they weren't able to get these apps and/or the deals. Give it a try anyway– maybe you'll get lucky. You might also try a VPN to pretend you live in the US, although I'm pretty sure that is illegal. Just like good-tasting food, it's probably bad for you and I don't condone its use. Always eat food that tastes terrible. You'll probably be a lot healthier for it.

Once you've installed  the Music Deals app, find the Holiday Freebies and click on one you'd like. If you don't have the XBox Music Player installed, you will have to do that as well. Don't worry, it's free too.
After jumping through these few simple hoops, you will be able to download all this music to your computer. I must point out that this offer is not a list of lame music titles from the early 1900's nor need they be listened to on a cassette player (remember those?). It is a very good list that will undoubtedly provide you with a great start towards building a well-rounded, top-quality music library.
Many of these deals expire in 20 days or so. Don't sit on your thumbs and forget about them.
I first saw this great deal on Paul Thurrott's WinSuperSite. Thanks for the heads up, Paul!
Enjoy!
Richard
—