When teaching about photos I am often asked how to put a caption on a photo. I was recently talking about using a cell phone to capture some of those old photographs hidden away in a box in the basement. 
I do have a few boxes and albums that were my mom's and dad's. We are talking about pictures as far back as their parents in the 1800's of people I do not even know. Keeping those old photos is a choice. Maybe the kids will want them and they can make their choice in their time. 
Using our cell phone cameras we can snap pictures of the ones we want to keep, print them to hang on a wall or put up on our Facebook page. Once we have done that, we can put that box of old pictures in the trash or hide it away for the kids to find.
My example below is one such image from those boxes.
Locate the picture and open it in Paint.
(Win+Q > type Paint > press Enter)
Grab the lower right box and drag down to create a white space.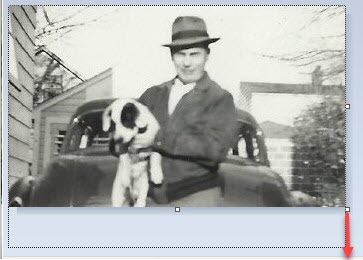 Now you have a place to add the caption.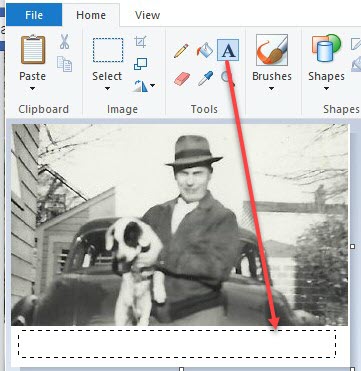 On the File tab, click the A and drag a box into the white space.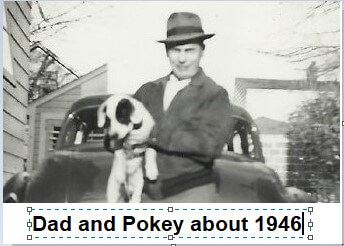 Type the caption in the text box, then click off the box to lock it in. If not centered or placed just right, use the Select tool to drag a box around the text and move it. Instead of in a blank space under the picture, you could place the text right on the picture. You can even change the color of the text so that it stands out over the picture.
Save the completed picture with the caption. It is a good time to label the image with a descriptive name as well. In this case, perhaps it could be saved as Dad and Pokey 1946.jpg and save it in a folder where you can find a similar genre later.
Another one for the toolbox.
Dick
—