These days, whenever discussions turn to cleaning infected computers there are two names which are mentioned regularly and often – Malwarebytes Anti-Malware and SUPERAntiSpyware. No doubting both these free scanner/removers are excellent choices but there is another contender here which seems to be, to a certain extent anyway, the 'forgotten' alternative.
There was a time when any discussion involving identification and removal of malware almost always included a product then known as "A-Squared Anti-Malware". Since adopting the new title of "Emsisoft Anti-Malware" it seems to have dropped out of the limelight a little, which is a shame because it is very good software.
Weighing in at 97.7MB, the download is rather large but that is because it is actually the full version including all real time protections, and the user does gain extra benefits from the additional megabytes – an option to utilize a 30 day free trial of the full version. During installation the user will be provided with options to either install with the 30 day free trial (including real time protection) or in 'Freeware Mode' (without real time protection). Naturally, if the user chooses the free trial, the software will revert to Freeware Mode after the 30 days has expired:
Emsisoft Anti-Malware Free's scan feature not only identifies all types of malware but also includes full removal facilities. Scans can be performed in three pre-configured modes; Quick Scan, Smart Scan and Deep Scan – obviously each scan will take progressively longer. There is an additional 'Custom Scan' mode where the user can manually configure settings:
Emsisoft Anti-Malware also adds an entry to Explorer's right click context menu so any file or folder can quickly be scanned with just a click of the mouse button:
On my Vista Home Premium machine with some 80+GB used space:
Quick Scan – scanned 426514 objects in 50 seconds
Smart Scan – scanned 533143 objects in 40 mins 45 seconds.
I didn't try the Deep Scan feature but it's safe to assume it would take a fair bit longer to complete. A highly configurable scheduling feature is also included, so scans can be set to run at the user's convennience, including at regular pre-set intervals.
A-Squared Anti-Malware had a reputation for reporting false positives and I believe it's pretty safe to assume that hasn't changed too much – any program as thorough as Emsisoft Anti-Malware is bound to throw up the odd false positive. But Emsisoft Anti-Malware also includes a brilliant safeguard – a 'Quarantine' component. The Quarantine feature is an essential precaution, especially for less experienced users – restoring quarantined files in Emsisoft Anti-Malware is a piece of cake.
Emsisoft Anti-Malware Free is definitely worthy of consideration and would be a handy addition to any security setup – as a backup (on-demand) scanner and/or to help thoroughly clean an infected machine.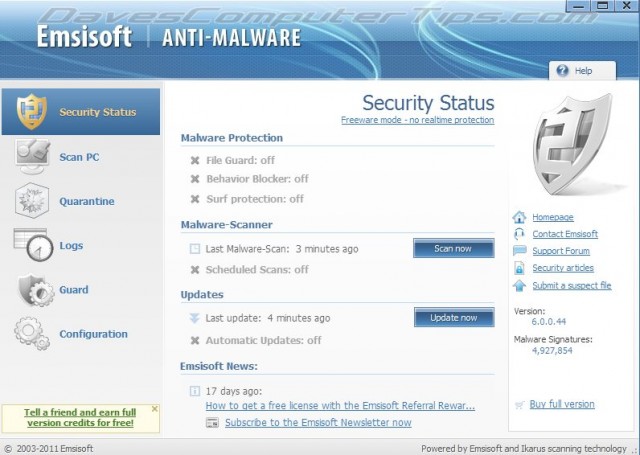 **There is also a portable version of this scanner software available which can be run from USB drive. It's called Emsisoft Emergency Kit and includes a couple of extra tools – download is 101MB. Many thanks to 'Dacko' for this additional information.