IMPORTANT NOTE: This article was published under the firm belief that ShareMouse is in fact FREEWARE. The free nature of this software has now been called into question. We have sent off an email to the developers seeking clarification. In the meantime, we suggest anyone interested in downloading this software should hold off until after we have received that response. Please read through the 'Comments' section for more details.
I know of many people who have desktop and laptop PCs set up in close proximity to one another. Do you have more than one computer set up on your workspace?  Then ShareMouse could be just what you have been looking for. ShareMouse is software, available for both Mac and PC, which allows users to share one mouse and keyboard across multiple networked computers, without the need for any additional hardware or switches.
When you reach the border of the monitor, the mouse cursor magically jumps to the neighboring monitor and you can then control that computer. Unlike any KVM switch, there is no need to press any button or turn a switch. All mouse and keyboard input is encrypted and transmitted over your existing Ethernet or Wireless LAN network connection. No extra hardware is required, you can seamlessly operate multiple computers on your desk from any mouse and keyboard.

ShareMouse enables you to drag & drop files between multiple computers. Just pick one or more files with the mouse and drag them to the monitor of the desired target computer.

ShareMouse shares the clipboard between multiple computers. Whatever you copy into the clipboard of one computer is available in the clipboard of any other computer.

ShareMouse allows you to control a Mac from a PC. It also works the other way round and you can control a PC from a Mac.
This is what one user review had to say about the ShareMouse software:
I decided to try this as I am setting up a new laptop sitting just to the left of my main PC. I am really impressed. Simply move the mouse to the left side of the screen and you have instant control of the laptop using the PC's mouse and keyboard. Saves a lot of time. Just drag the files from the PC to the laptop. Simple to set up – Rated 5 Star.
There is also a portable version available.
Download for Windows: 1.4MB exe
Portable for Windows: 1.1MB zip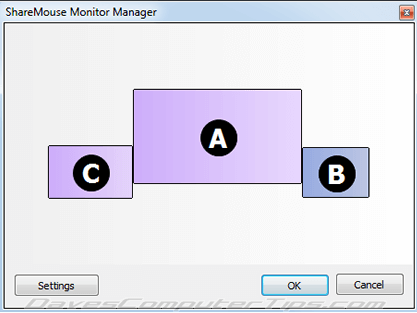 NOTE: The ShareMouse home page is rated Amber by WOT. There are no negative comments at all on the WOT site details page to substantiate that rating. The file scans 100% clean through VirusTotal.