No Need to be Alarmed
A little over 8 years ago I had an idea – thankfully one of my better ones – to start a website where people could learn about computers. From our meager beginning to the global media powerhouse DCT has become – I may be exaggerating here – it has been a great experience. Great in what ways you ask? Well I've met some really great people along the way. I've also had the ability to grow my knowledge about "web" things like servers, HTML, and too many other acronyms I won't bore you with right now.
Over those years the site has matured in step with my knowledge and experience – interesting how that works. We have moved from the most basic of hosting options to modern day powerful VPS servers. We have moved from basic hand coded pages to modern day CMS systems.
Today is another step in our journey. Things may look a little different, and they are, but all of the functionality remains. A visual make-over would be a fitting description.
Going Forward
I didn't want to shock anyone by delivering a weekly newsletter that was visually different without explanation, so that will change with next week's mailing ( February 6th, 2015). There are also quite a few bugs to work out so please be patient as we work diligently behind the scenes to whip DCT into shape.
The most important think going forward is DCT will continue to provide the same great content as before. In fact, we're working on providing even more content to the reader this year.
Looking Back
Of course, we can't move forward without looking back at the path we've traveled!
In 2006 the site was extremely basic – maybe laughable. Poorly hand coded in HTML with some fancy hover navigation. No need to bring me to task for the bubble graphics!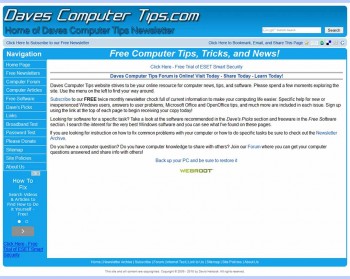 By 2010 I had invented the notion of "flat design" and while the site was still hand coded it had several dynamic aspects thanks to PHP include statements. We had a forum!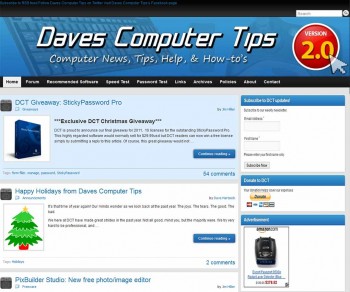 By early 2012 we had moved to a content management system (CMS), which greatly automated the operation of the site. Does anyone else notice a similarity in the site color from 2006 to 2012?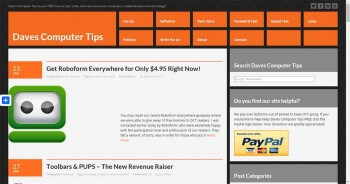 By early 2013 we had adopted a more edgy look – some would say Windows 8-esque – and moved to a much more powerful VPS server.