[message type="info"]The lucky winners have now been drawn, and the winning names are:
Nicholas Barwig
Zen Johnson
Crystal Je
Jerg Yagram
Clive Richards
Lewis Golden
Per Magnus Igeland
Arnaud Corvaisier
Ben Soto
Jeremy Dixon
Winners have been notified by email.
Congratulations to the winners and many thanks to all who entered, especially those who 'Shared' and/or 'Tweeted'.
THIS GIVEAWAY HAS NOW EXPIRED[/message]
Ever thought about setting up your own website but found the task a little daunting? WebSite X5 Evolution 12 is a powerful and professional website creation software specifically designed to make the process as simple as possible, no experience or special knowledge required, and WebSite X5 Evolution 12 includes everything you need to get your website up and running.
Thanks to the generosity of Incomedia, we have 10 licenses for the excellent WebSite X5 Evolution 12 to give away to 10 lucky readers. This is the latest full version of the software which would normally sell for $75.00us, but you now have a chance to own this top notch website creation software for the fabulous price of FREE.
WebSite X5 Evolution 12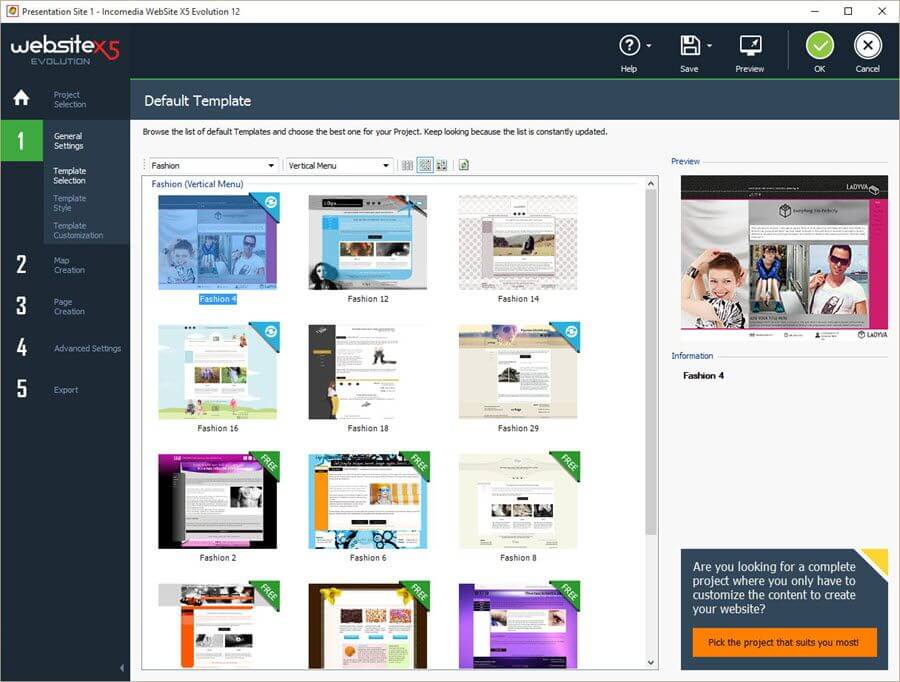 Coming with an intuitive wizard-based interface which guides users step-by-step through every major part of creating a website, plus 1000 ready-to-go templates, WebSite X5 Evolution 12 really is easy to use. However, that simplicity does not mean Evolution 12 lacks important features or sacrifices any required functions or options. Quite the opposite, this comprehensive software includes everything you need to design your own website, even allowing for advanced features such as sitemaps, shopping carts, photo galleries, web forms, RSS feeds, etc.
WebSite X5 Evolution 12 includes so many features and options it would take up far too much space to list them all here. However, here is a summary of the main features:
GRAPHIC TEMPLATES – Create professional-looking websites thanks to the gallery of over 1,000 graphic templates. Choose the one you like best and make changes to it, if you want, using the built-in editor and numerous style settings. If you prefer, you can create your own template from scratch.
BLOGS & RSS FEEDS – Create a more personal relationship with your website visitors: set up a blog or publish your news through an RSS feed. Write articles and include pictures and videos in them, but above all, you can answer comments and moderate discussions from the online control panel.
E-COMMERCE – Set up your own online store: it's easy. Create a product catalog and include photos, descriptions and prices. Set up the payment terms, including credit card management, and delivery methods.
MULTIMEDIA OBJECTS – Create content-rich pages, including text, photos, videos, email forms, maps, social network buttons, etc. There's also an optional objects library you can use: install apps to integrate special content.
WEB FONTS – Thanks to the new text editor and integrated Web Fonts, you can be sure of perfect text editing and you can use your favorite fonts, knowing that they will always be displayed correctly.
RESPONSIVE WEBSITES – Ready for mobiles. Create responsive websites, that adapt perfectly to the screen they are viewed on. Users will always see your pages at their best, whether they navigate on a desktop or smartphone.
NOTE: I realize there were activation issues with the previous WebSite X5 giveaway but I can assure you that will not happen here. Each winner will be provided with his or her own unique activation key; simply apply the key to activate – no further registration or additional steps required.
So How Do You Win
We'd appreciate it if you'd take a moment and submit a comment telling us why you'd like to win WebSite X5 Evolution 12. However, submitting a comment is not required to enter this contest and will have no bearing on your chances.
For your chance to win, simply enter your name and valid email address in the spaces provided below then click Enter Contest. After your entry is accepted you will be presented with options to share the contest on Twitter and/or Facebook. For each person that enters the contest as a result of your share you will earn 2 extra entries as a reward!
Sharing the contest on social media is completely voluntary, but encouraged.
Competition Rules:
To enter: simply submit your name and a valid email address.

You must submit a VALID email address. We need to contact the winner so disposable email addresses will not be eligible.

Additional entries may be earned by voluntarily sharing on Facebook and/or on Twitter.

Shortly after the contest ends the winner(s) will be chosen at random.

Winner(s) names will be posted on this giveaway page. Please check back here to see the winner(s) name announcement!
The winner(s) will be notified by email at the email address used to enter the contest – be sure to use a valid email that you check regularly.

Winner(s) must claim their license within 5 days. After the five (5) day period, unclaimed prizes will be distributed at the sole discretion of DCT.

Entrants agree to allow DCT to communicate with them by email using the address provided by the entrant when entering the contest.
[contesthopper contest="56371″]