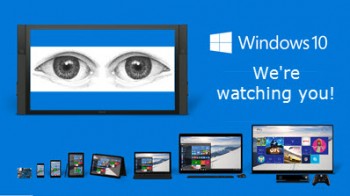 In light of recent news that the move to Windows 10 was slowing in some parts of the world, such as the U.S., someone at Microsoft decided to do a little bragging on Windows 10 usage facts. They are probably wishing, right about now, they hadn't done that. The intent was probably just to illustrate how much users of Windows 10 like the new operating system. The result, however, was to expose some of the information Microsoft is collecting about the usage of Windows 10. It's an eyeopener, to say the least.
A Senior Vice President at Microsoft stated in a blog post that over 200 million devices now have Windows 10 in use. That's something we would expect them to know, although independent estimates put the figure at closer to 164 million.
What we might not expect them to know is how much time you are spending on Windows 10. But they do. In fact, they know exactly how much time every user spends on Windows 10. That suggests they may know precisely when you are online and when you're not. Is it just me, or, does that seem a little creepy? But, it gets even more weird.
Microsoft knows how many billions of minutes were spent in Win 10's new browser, MS Edge, by users last month, alone. They know that Cortana, the new Windows darling, received 2.5 billion questions since it's launch. They know how many millions of hours of Xbox One games were streamed to Windows 10 PCs. They know how many billions of hours gamers were playing PC games on Windows 10. And, they know that over 82 billion photos were viewed from the Windows 10 Photo app. Just how much they know about those pictures you've been viewing is anyone's guess.
These are the few things that Microsoft has revealed about the data they are tracking on Windows 10 usage, and the people using it. Experts have shown that Windows 10 telemetry data contains a random machine ID and is persistent across reboots. What we don't know is, how fine-grained is the data?
Personally, I don't think the extent of their intrusive spying is something to brag about. When journalists asked how they acquired all that data in the first place, Microsoft declined the request, stating they could not comment any further. Oops!
Microsoft has admitted that much of its automatic tracking cannot be turned off. Spyware is now a "feature" of Windows. So, the question is, what else do they know about about your computer time on Windows 10? What other data are they collecting? Is the data truly anonymous? Is it only used to help improve Microsoft services, or is it brokered to those with the money to buy it?
Some people will say, "I have nothing to hide." Well, fine. Give me the passwords to all of your email accounts, open the curtains to your bedroom window, and tell me every Website you visit, the good, the bad and the ugly. I'll start taking notes. 😉

In the most aggressive measure yet to get Window 10 on computers world-wide and meet its 1 billion user target… it will soon become a recommended upgrade in Windows Update. Which means that anyone who hasn't taken measures to prevent automatic Windows updates will soon turn their computer on to find that Windows 10 has taken over.
Given the unprecedented, outrageous degree to which Microsoft is aggressively pushing Windows 10 on current Win 7 and Win 8 users, many think they should be more forthcoming about their data collection.
Do we deserve to know what data Windows 10 is collecting from us? Do you care? Will you move to Windows 10 in spite of the intrusive telemetry? Do you feel less exposed with Windows 7?