[message type="info"]The lucky winners have now been drawn, and the winning names are:
Hania Balewicz
Wayne Kirk
Dean Price
Lindsay Fotheringham
Douglas Andersen: Unclaimed – redrawn to Miron Gazda

Brian Merskey: Unclaimed – Redrawn to Peter Hayes

Brian Lousley
Jim Kirk: Unclaimed 0 redrawn to Livio Manolache

Michael Pittman
Jack Hale
Winners have been notified by email.
Congratulations to the winners and many thanks to all who entered, especially those who 'Shared' and/or 'Tweeted'.
THIS GIVEAWAY HAS NOW EXPIRED[/message]
The generous folk at Auslogics have most kindly donated 10 LIFETIME licenses for the latest full version of the excellent Auslogics BoostSpeed software for us to giveaway to our subscribers.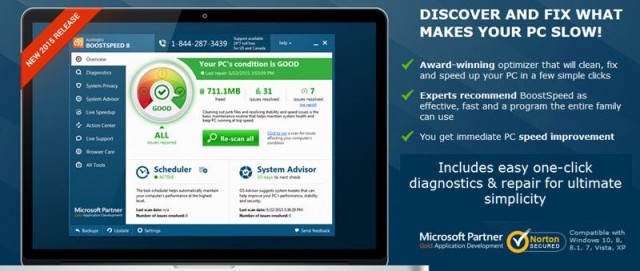 Most of you will be familiar with the Auslogics name associated with the outstanding Auslogics Disk Defrag software which has been top of, or near the top of, everyone's 'best of' list for quite some years. Some time back, Auslogics expanded that concept releasing an all-in-one suite of maintenance and optimization tools called Auslogics BoostSpeed.
One of the most common causes of computer issues among my clientele is lack of regular maintenance. That's where a product such as Auslogics BoostSpeed comes into its own, providing all users, regardless of proficiency, with a simple and automated method to effectively maintain and optimize their system.
Auslogics BoostSpeed – Top Notch Maintenance & Optimization Suite
At first run Aulogics BoostSpeed automatically scans the system and then reports any identified issues:
(Note the "Backups" option as indicated in the bottom left hand corner of the interface – more on this later)
Auslogics BoostSpeed and Transparency
Once the scan has completed and the results are in, you can either choose to simply implement the one-click option by clicking the Repair all button, or more experienced users can drill down further to see exactly what is going on by clicking the Diagnostics option in the left hand panel: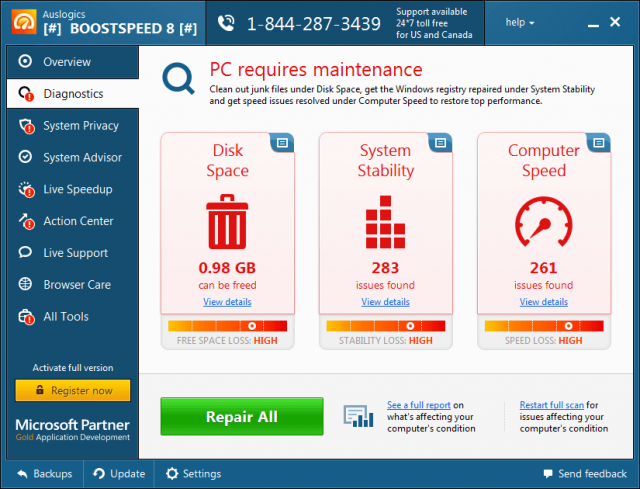 From here, simply click the "View details" link associated with each category: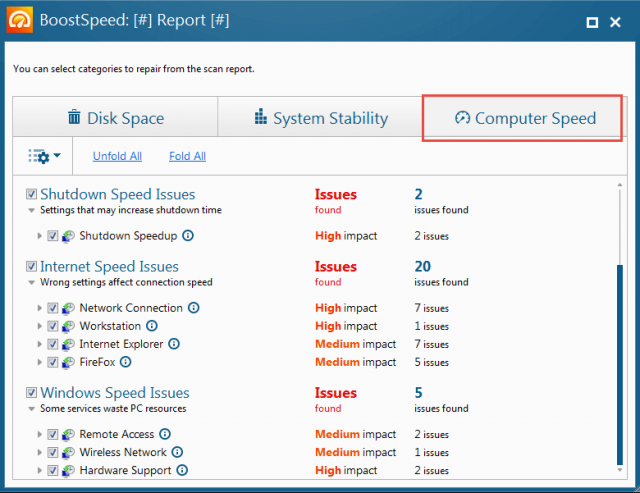 To drill down even further, click "Unfold All" and this will then reveal all the finer details. As you can see, Auslogics has left nothing to chance and the software is completely transparent.
Of course, all maintenance and optimization chores can be set to run automatically at regular user-defined intervals via a built-in scheduler:
Safety First!
Returning to that "Backup" option mentioned earlier: For me, one of the most important factors with this type of software is safety. Not that Auslogics BoostSpeed is prone to creating problems, quite the opposite. However, with literally millions of different hardware/software configurations involved, there is always the off-chance. Auslogics BoostSpeed also has this aspect nicely covered with its built-in "Rescue Center" which automatically maintains records of all changes for easy restoration.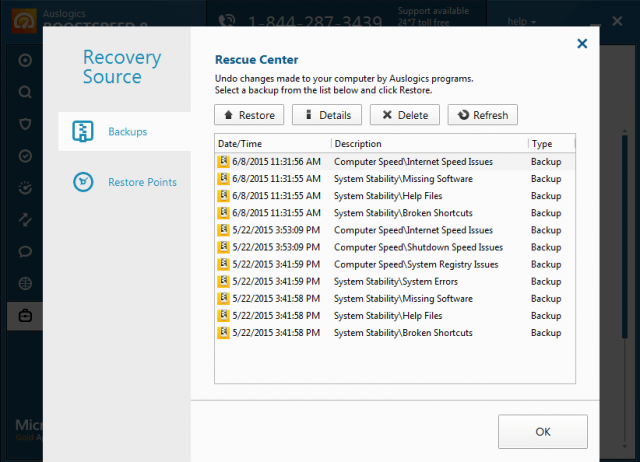 Auslogics BoostSpeed also includes a real time optimization component to help maintain optimum system efficiency while you're working: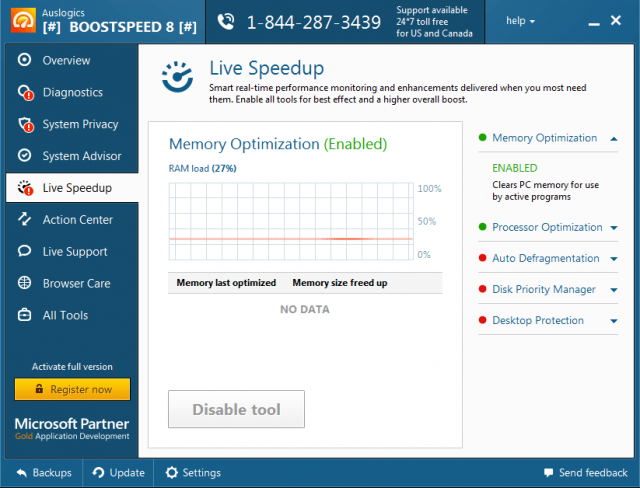 And if all that is not enough, check out this full list of useful tools:
Bottom Line
There is so much to Auslogics BoostSpeed, I'm almost certain to have missed mentioning something. Simply put, Auslogics BoostSpeed includes everything a user could ever need to effectively maintain their system and keep it running smoothly and efficiently.
So How Do You Win
We'd appreciate it if you'd take a moment and submit a comment telling us why you'd like to win Auslogics BoostSpeed. However, submitting a comment is not required to enter this contest and will have no bearing on your chances.
For your chance to win, simply enter your name and valid email address in the spaces provided below then click Enter Contest. After your entry is accepted you will be presented with options to share the contest on Twitter and/or Facebook. For each person that enters the contest as a result of your share you will earn 2 extra entries as a reward!
Sharing the contest on social media is completely voluntary, but encouraged.
Competition Rules:
To enter: simply submit your name and a valid email address.

You must submit a VALID email address. We need to contact the winner so disposable email addresses will not be eligible.

Additional entries may be earned by voluntarily sharing on Facebook and/or on Twitter.

Shortly after the contest ends the winner(s) will be chosen at random.

Winner(s) names will be posted on this giveaway page. Please check back here to see the winner(s) name announcement!
The winner(s) will be notified by email at the email address used to enter the contest – be sure to use a valid email that you check regularly.

Winner(s) must claim their license within 7 days. After the seven (7) day period, unclaimed prizes will be distributed at the sole discretion of DCT.

Entrants agree to allow DCT to communicate with them by email using the address provided by the entrant when entering the contest.
[contesthopper contest="44046″]