If you've upgraded your PC to Windows 10, you may have noticed a folder in the root of C drive (your system drive) called "Windows.old":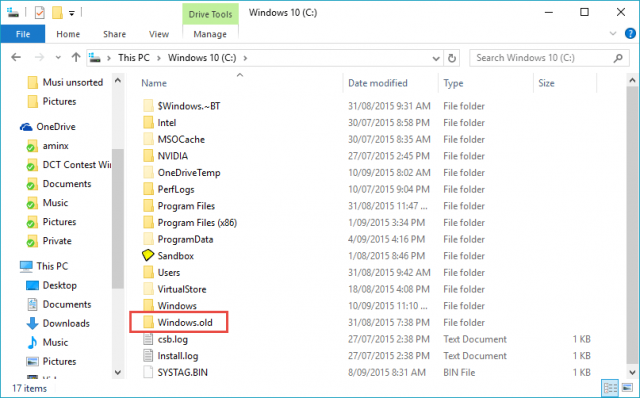 This folder contains files and data relating to your old installation, the operating system you upgraded from, and is what Windows utilizes to perform the "rollback" operation. As such, this Windows.old folder is quite large, 17+GB in my case, so could be hogging a lot of precious space on your hard drive.
Two important notes:
If you're even thinking that you might want to rollback from Windows 10 to your previous Windows version, do not delete this folder!
Unless you're seriously strapped for hard drive space, you don't really need to do anything. Windows 10 will automatically delete the folder 1 month after you performed the upgrade.
That said, if you have no intention of rolling back and don't want to wait, you can delete the folder straight away, but not in the way you might think. If you simply right click the folder and select "Delete", you're liable to run into all sorts of those pesky permissions issues – you don't have permission to this and do that, yackety-yak, blah-blah.
Here's the correct way to delete the Windows.old folder:
Open the Start menu and type "disk cleanup", then right click the top item and select Run as administrator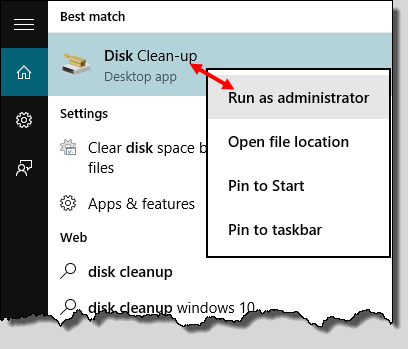 In the next window, click OK and wait for the scan to complete
Now scroll down until you see "Previous Windows installation(s)" and check the adjacent box: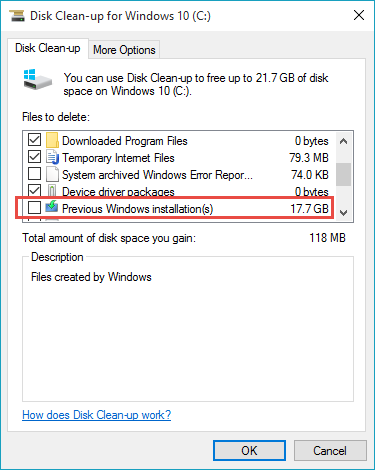 Lastly, click OK to start the cleanup process.
I must admit, I haven't bothered deleting the Windows.old folder myself. Firstly because I wanted to make sure Windows 10 was running issue free before eliminating the option to roll back, and secondly because I have plenty of free space on my hard drive so can afford to wait until Windows deletes it for me.
What about you, are you hanging on to Windows.old just in case, or are you going to send it to oblivion right away?