Karen's Replicator is a really simple 'set it and forget it' way to backup your important data.
First, you need to get an external drive to keep the backed up data. If you keep the backup on your computer's hard drive, you are not backing up data, just copying it to another folder .
Second, download Karen's Replicator and install it (it's free!). Setup the backup for your files and then just forget it, Karen's Replicator will keep all your stuff backed up.
To get started, open Karen's Replicator and click 'Edit Settings'.
Next start setting up the backups. In this example, Documents will be setup in Windows 8.1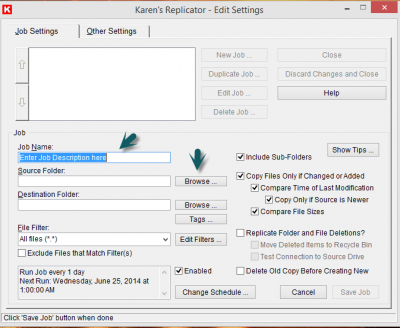 Enter Documents in the Job description and scroll to your Documents folder using the Browse button to enter the Source location.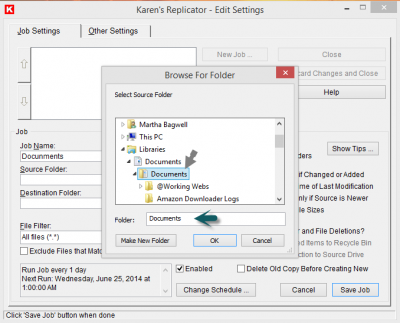 Next use the browse function to locate the destination for your backup (the external drive).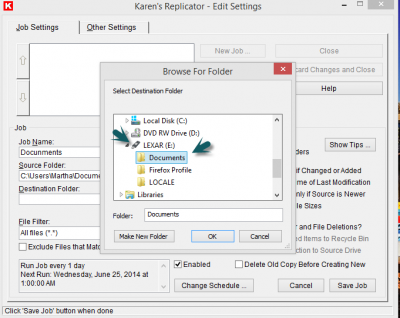 (If you haven't made a Documents Folder on your external drive, choose 'Make new Folder' and name it Documents)
Now is the time to set the time you want your backup job to run. If you leave your computer on all the time, you can accept the default schedule and save the job.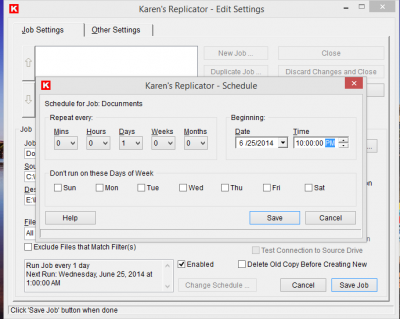 If you turn your computer off when you aren't using it, you can leave blank 'Enabled' and just run the jobs manually or change the schedule to fit your needs.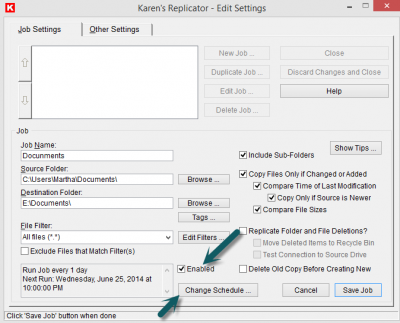 Once your setup is completed, don't forget to save the job!
You can change or add another job by clicking the 'Edit Settings'.
Note: The first time you backup your Documents folder it may take a while depending on how many files are in your Documents folder. After the first backup, subsequent backup runs will be very quick.
You can add as many jobs as you like, one for Pictures, maybe one for a browser profile. I use Firefox so I back up my Firefox profile as it isn't located in Documents.
 See the above screenshot for where the profile is located. You may have to enable viewing hidden files and folders to see it!
Always keep in mind, your system is not infallible and losing your precious data can happen all too easily. Backups are not a luxury, they are a necessity.