Beneath a Steel Sky- A Classic Point and Click adventure, set  in a dystopian future.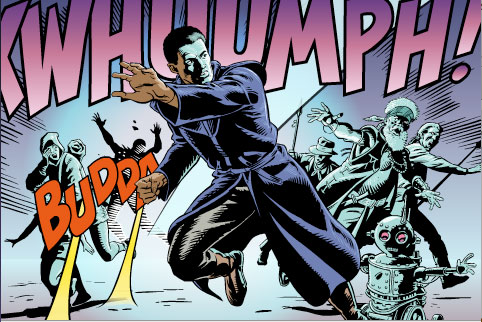 Cult classic, 'Beneath a Steel Sky', widely considered to be one of the best adventure games ever written.
[youtube]http://www.youtube.com/watch?v=dl7ZbTxkx-A&list=PLB3889D93D3C9C7B4&feature=share[/youtube]
Overview:
Robert Foster is an innocent outsider stranded in a vast city where oppressed civilians live and work in soaring tower blocks… while the corrupt, covetous and rich lie underground, shielded from all pollution. Alone, save for a robot circuit board, Foster must fight for survival… and discover the sinister truth behind his abduction…

Paranoid population. Psychotic criminals. Power hungry corporation. Big Brother government. Haves and have nots.

In the not so impossible future. In the melting pot of Union City. All man's social problems are coming to a boil. Under the claustrophobic lid of a steel sky.

From the pit of the industrial level to the belly of commercial sector, to the spheres where the rich and powerful play. It's Man against Man. Man against Machine. Man against Time. In an urban hell only you can liberate… Maybe.

Featuring Revolution's Software innovative Virtual Theatre system, Beneath a Steel Sky is a gripping science fiction point and click adventure game in the cyberpunk genre. Over 100 locations designed and art directed by award-winning comic book author Dave Gibbons (Watchmen fame). His comic book, inspired by the game itself, is included to complete the content.
Minimum system requirements: Windows XP or Windows Vista, 1 GHz Processor (1.4 GHz recommended), 512MB RAM (1 GB recommended), 3D graphics card compatible with DirectX 7 (compatible with DirectX 9 recommended), Mouse, Keyboard.
Minimum system requirements (Mac): OS X 10.6.8 or later. Processor: Intel Core Duo 2GHz+ Memory: 1GB of RAM Graphics: 64MB of video memory Recommended two-button mouse, or Apple mouse with Secondary Button / Secondary Click enabled.
Available free at GOG 
…. also available for iPad and iPhone, where fees will apply.