PDF Readers
The ubiquitous Portable Document Format (PDF) file has been around for nearly as long as I can remember. Created by Adobe, its main appeal is that it is not platform-dependent. PDFs can be viewed and edited on any modern operating system. Adobe, of course, has provided its long-standing solution in the form of Acrobat Reader. Most Internet sites that provide these documents will suggest that you need Acrobat Reader installed on your computer in order to view these files. That is a deceptive statement and, in my opinion, plain bad advice.
Note: My disdain for Acrobat Reader stems from once upon a time trying to uninstall it. Acrobat Reader inserts itself into an operating system with so many tentacles that completely removing this software is darn near impossible. I tried and spent many hours one day, and kept discovering new references to the abomination in the Windows registry. I finally gave up and am not sure to this day if I was ever truly successful.
Given that there are many better PDF readers, both portable and free, it makes sense to find the one that best suits your needs. This brings us to Ashampoo's PDF Free.
PDF Free by Ashampoo
Ashampoo has told us about its new release of PDF Free. I've used it for a few days now and would like to share some of my thoughts with you.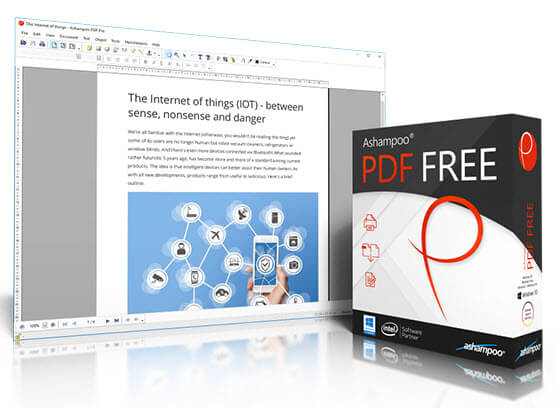 Installation
As is expected from a trustworthy company like Ashampoo, the installation of PDF Free is a straightforward process. There is no crapware or other hidden nasties to worry about. They do ask that you activate the program by setting up an Ashampoo account. I have had an account with them for years and that has never caused me any problems.
Feature List
| | |
| --- | --- |
| | Free PDF Reader |
| | Create PDFs |
| | Built-in printer driver to create PDFs from any Windows application |
| | Fill out interactive forms |
| | Helps with filling out static forms |
| | Compact and fast |
| | Search in documents |
| | Move and delete pages |
| | Insert pages from existing PDF documents |
System Requirements




Ease of Use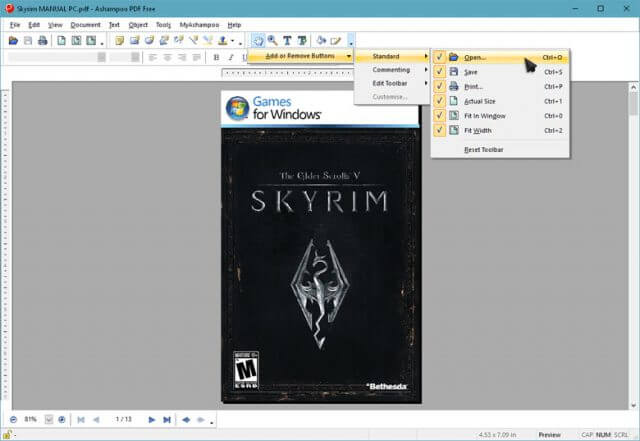 Even though this software is free, it offers all the options you would expect from a full-fledged PDF reader. Every menu section in the 'ribbon' is customizable by using the drop-down menu provided in each section. You will also notice that there are keyboard shortcuts available for everything. This makes it easy to keep your hands on the keyboard and not have to jump back and forth to the mouse.
Conclusions
Ashampoo PDF Free is a wonderful choice if you need a good PDF reader. It also allows you to create your own PDF documents which is a feature that many alternatives don't offer, including the infamous Acrobat Reader.
I may be a bit biased when it comes to Ashampoo products, but I hope that is for good reason. Ashampoo seems to produce great products at a fast pace without sacrificing quality for quantity. They did a remarkable job with this one.
Here's that link again so you can try it out, too: Ashampoo PDF Free
I can feel good about recommending this program,
Richard
—