Reports of the decline in PC sales have been circulating for some time now, particularly in the desktop arena, and we are now hearing of similar slow downs in the smartphone and tablet market. I guess all these competing platforms are dividing the market share more than ever. However, there is one area which is showing signs of growth and that is the 2-in-1 PCs. I suspect these may well emerge as the major new battlefield during the coming year.
These 2-in-1 devices offer a lot of appeal, both in terms of versatility and pricing. What you get is a tablet and fully operational PC all in one product and at a very competitive price. These smaller combination devices are ultra portable with generally exceptional battery life yet will often equal their big brothers in terms of performance. Of course, as with all PCs, these 2-in-1 devices come with varying hardware configurations, ranging from entry level to high-end, and pricing varies accordingly.
Huawei Matebook
All major PC manufacturers are now including these versatile little machines in their range of products, and even leading telecommunications company Huawei has moved out of its previous comfort zone in an apparent bid to take advantage of the trend.
At the recent Mobile World Congress held in Barcelona, a new 2-in-1 PC from Huawei pretty much stole the show, universally eliciting high praise. The Huawei Matebook, due for initial release in March, will come with a 12-inch 2160 x 1440 IPS TFT LCD display and, according to reports, strong enough specs to rival both the Surface and iPad Pro. With a starting price of $699.00us, it is almost certain to have the likes of Asus, HP, Dell, and Lenovo looking over their shoulders. Check it out here: http://consumer.huawei.com/minisite/worldwide/matebook/index.htm
*By the way; if you're ever looking to purchase a 2-in-1 make sure it comes with either eMMC or preferably SSD storage and not a traditional HDD – it's well worth paying that bit extra.
First Hand 2-in-1 Experiences
The Asus T100 Transformer sits at the lower end of 2-in-1 PCs and, while definitely not recommended for intensive work, is eminently suitable as a secondary portable device. Over the past couple of years I've bought two Asus T100 Transformers for 2 of my grandchildren who were about to embark on their journey through high school, both of which came with the following specs (the computers, not the grandchildren):
Display: 10.1″ 16:9 IPS HD (1366×768) with Multi-Touch Screen
CPU: Intel Bay Trail-T Quad Core Z3775 1.46 GH
RAM: 2 GB 1066 MHz LPDDR3 SDRAM
Storage: 64GB eMMC expandable via SD card
Connectivity: Integrated 802.11a/b/g/n wi-fi; Bluetooth 4.0
Camera: 1.2 Mega Pixel web camera
Audio: Built-in 2 Speakers and Digital Array Microphone SonicMaster
Battery: 2Cells 31 Whrs Polymer Battery – up to 11 hours battery life
I/O Ports: 1 x Mic-in/Headphone-out jack. 1 x USB 3.0 port(s). 1 x Micro USB. 1 x micro HDMI
Operating System: Windows 8.1 + Office Home and Student pre-installed for free
Now those specs might not be anything to write home about but during the time I spent setting up each machine, I was surprised at just how responsive they were, and, with the exceptional battery life and portability (weighing in at a mere 2.5lbs total), they are just perfect for students.
The price; a little under $300us. Laptops I looked at around that price did not even come close to the value of the T100. I might add that the first one I bought is still going strong after almost 3 years, which, considering it's been in the hands of a 13-15 year old lad, is a testament to its durability.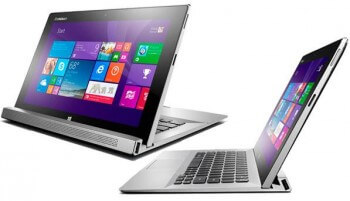 I own a Lenovo Miix 2 11 myself which comes with an 11.6″ full HD touch screen display, Intel i5 CPU, 4GB Ram, and 128GB SSD. I love this little machine; ultra light, long battery life, and it's handled everything I've thrown at it with ease, even video transcoding. Priced at a little under $600us it is, I believe, the best value for money PC I've ever owned.
Of course, I still have my super-duper desktop PC with 24″ IPS monitor and I guess most of us desktop fans will never be without one. However, these 2-in-1 transformer type devices offer so much versatility for so many users, I suspect they may well become the next big thing.
What do you think?