Skype is the future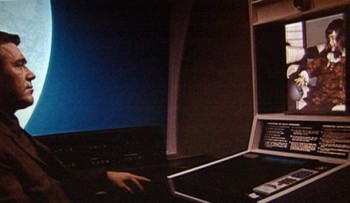 Skype is one of those computer innovations that realize my dreams as a young man. When I first saw this on "2001: A Space Odyssey", I thought it would be amazing to experience this, and it is! You can not only talk to people all over the world but see them too! Skype is even learning how to translate different languages in real time (here comes the Universal Translator from Star Trek, folks). The world we live in!
There is one itsy-bitsy little problem, though.
Skype Leaks
Skype has a serious security hole. It used to spill your IP address out into the Ethernet for all to see. It has had this flaw for many years but recent versions of Skype have been repaired and the hole has been plugged.
The problem with having your IP address being displayed to the world is that Denial of Service attacks can then be employed. If you are a victim, you won't be able to access the Internet properly. If you're an online gamer, your session might be interrupted. Not good if you're about to blow up the bad guy with a couple of clicks and win the game!
Anyone who knows your Skype user name can simply look up the IP address on the Internet. There are a lot of dark web sites out there that will happily provide you with this information.
And, "No", I will not tell you how to do it.
How to fix it
If you're not sure you have the latest version of Skype, or if you simply want to do a manual check to see for yourself that your IP address is not being shown to everyone, just follow these few simple steps:
Fire up Skype and click on the Tools Menu, then choose Options from the Drop-down Menu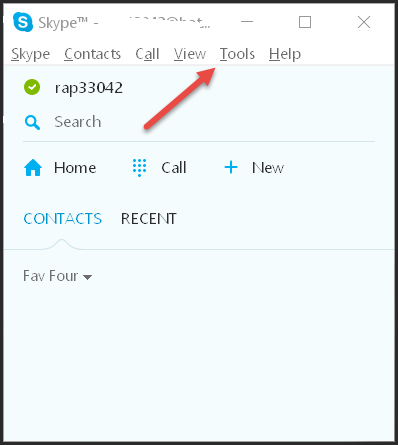 Now, click on Advanced settings, then choose Connection
In the right panel you will see a check box labeled Allow direct connections to your contacts only. Make sure that box is checked.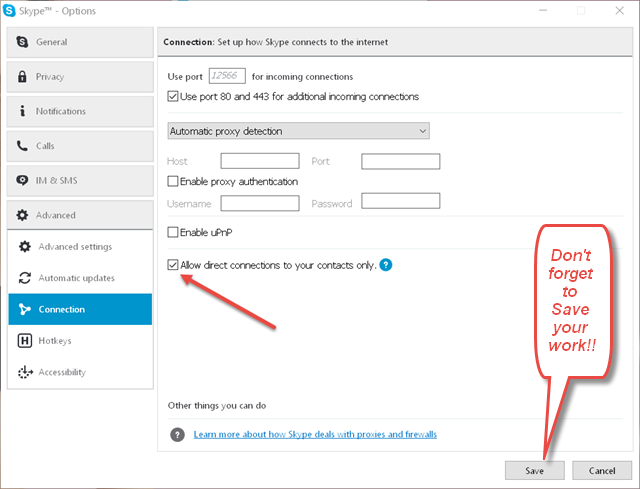 Don't forget to click on the Save Button or all your work will be for nought.
Now what?
Even though you have blocked most of the planet from seeing your IP address, Skype will not block this information from people in your Contact List. From this point on, any shenanigans running afoot will be caused by your so-called "friends".
Richard
—