WiseCare 365 Pro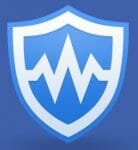 WiseCleaner has teamed up with Dave's Computer Tips to offer our readers a free giveaway version of their WiseCare 365 Pro PC maintenance program. WiseCare 365 normally costs $39.95 (US) (currently discounted to $29.95), but can be yours at no cost by simply reading this short article.
This giveaway is a limited-time offer ending on January 27, 2018. The giveaway version must be downloaded on or before that date. It may be installed at any time, but does not include free upgrades. The version number is 4.7.9.
PC Cleaning And Speed up Tool
"Clean registry and junk files from your PCs. Protect your privacy and make your PCs more secure. Provide a better option of optimizing and accelerating your computer!" ~ WiseCleaner

Using WiseCare 365
Installation
Installation is exactly what you would expect from any quality PC program. Download it, run it, and it's good to go right "out of the box".
Settings
It should be noted that WiseCare 365 installs some Windows services that will, by default, run in the background. This behavior can be changed from within the Settings Menu: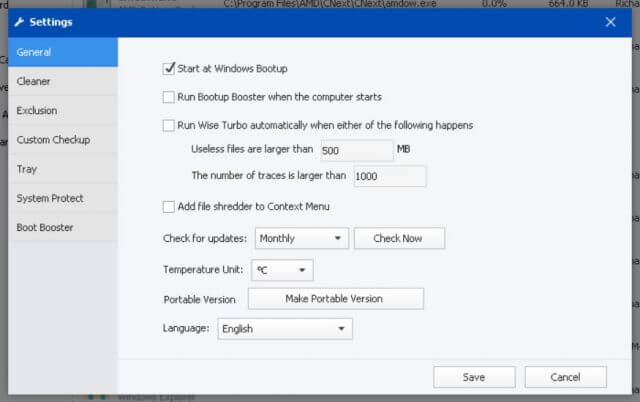 As you can see, by simply checking/unchecking the appropriate boxes you can change the way WiseCare 365 acts when you boot your system. You don't have to have it running in the background at all if you don't want it to. However, there are some nice features you might like to start off with. For example:
Boot Booster
If you let Boot Booster run when the computer starts, it will show you how much time each start up program uses at boot time. This is a great way to shave seconds off the time it takes for you to get to the Windows desktop. (I was able to speed up my boot time by nearly 10 seconds.) When you are done with it, you can uncheck this box and it won't bother you again.
I know I will be using this feature from time to time in the future. Very useful.
Main Screen
This is the Main Screen you will see upon first running WiseCare365: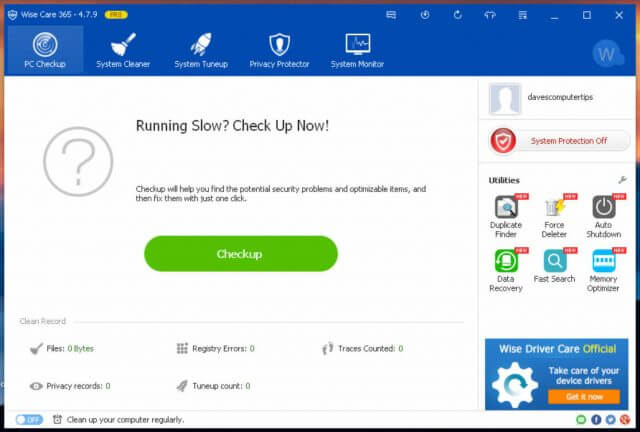 It goes well beyond the scope of this post to show you everything that WiseCare 365 can do. I can only scratch the surface here.
By clicking the green Checkup button, after a brief scan of your system, you will be shown a list of items that WiseCare 365 thinks needs optimizing.
Note: This utility found 4,480 "problems" on my system!! I'm sure as hell not going to let a piece of software change that many things on my computer without knowing exactly what is going to be changed.
At this point you can click the Fix button (if you're really brave) or you can take the much safer route and pick and choose exactly what is going to be "fixed". That's what I did: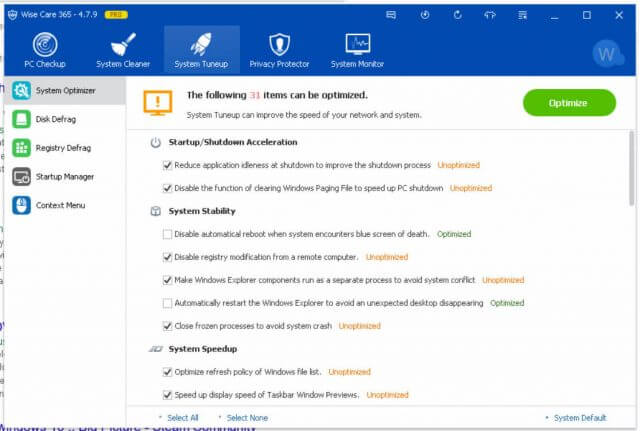 There are five buttons across the top of the screen. By picking one, you can zero in on a particular category. You will then have the opportunity to agree, or disagree, with the proposed changes, and this can be accomplished by checking/unchecking the appropriate boxes next to each item. Once your are satisfied with your choices, you can click the Optimize button to effect your changes.
Note: WiseCare 365 is an extremely powerful utility. If used without proper caution, it can really mess things up. Basically, if you don't understand something, don't do it — Have current backups at the ready! — Take your time and Read. The. Screen.

Extras
On the Main Screen, which I showed you in the first image of this post, you will notice a list of icons in the right-hand panel. On my system, there were a total of 24 icons all linking to various components within the program. Some are labeled with a "New" overlay, which will be downloaded and run. An example in my case was the Program Uninstaller module. I thought I'd give it a try…
Be Careful
I clicked on the Program Uninstaller icon, it was downloaded, a shortcut was placed on my desktop, and I ran it: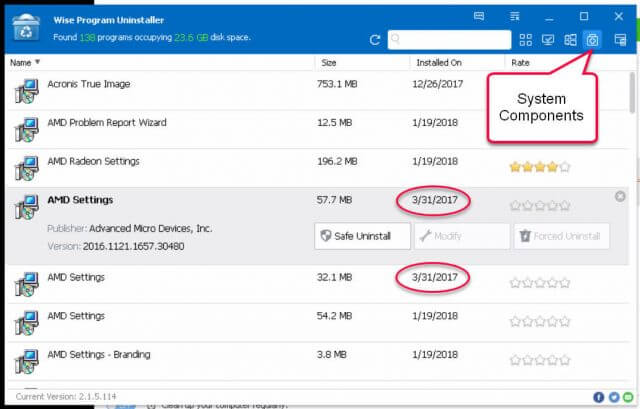 Under System Components I was shocked to see two very out-dated AMD installations. March 2017?! I had installed several updates of the AMD graphics drivers since then. So, I made sure I had a backup, and uninstalled the blamed things. After a re-boot, I saw that I no longer had access to the AMD settings via a right-click context menu. Arghhh! I ended up having to re-install the drivers which at best is an unpleasant task.
This goes to show you how easy it is to muck things up even when you think you know what you're doing.
Conclusions ?
In the hands of tech-savvy people WiseCare 365 is an awesome program. In the hands of a neophyte it be can be disastrous. I said it before and I'll say it again: Read. The. Screen.
I can heartily recommend this tool, but use WiseCare wisely. Baby steps are advised.
How To Get Your Copy
Since DCT and WiseCleaner have teamed up in this venture, it will not be necessary for you to visit an external link to download this program.
Simply click this big, beautiful, Download button and WiseCare 365 will be delivered to you:

Remember, this offer expires on January 27, 2018.
Enjoy your new software!
Richard
—