XP 'End Of Support' Popup
End of support for Windows XP is now just around the corner, on 8th April. In fact, XP users should start receiving official End Of Support popup notifications as of now.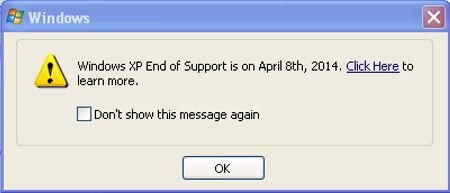 Security concerns have been well documented but one well known security company has taken it even a step further, suggesting that future vulnerability patches relating to Windows 7 and 8 may present a perfect attack vector for hackers looking to exploit XP:
It [XP end of support] also means that the fixes that will be coming out for Windows 7 and 8 may end up helping hackers to zoom in on exploits in XP. After all, a lot of code in the current versions of Windows has been carried forward, albeit with modifications, from XP. <source>
PCmover Express: Free XP Data Transfer Software
You may have seen the recent headlines regarding Microsoft's collaboration with Laplink to provide a free tool to help XP users transfer data. Many of these reports have been misleading – the tool, called "PCmover Express", only transfers from computer to computer so will not work when upgrading XP on the same machine. It should also be pointed out that PCmover Express does NOT transfer installed programs.

That said; PCmover Express may be helpful for those users looking to transfer files, settings, and user profiles from an existing XP machine to a different Windows 7 or 8 machine – check it out and download here: http://www.microsoft.com/windows/en-us/xp/transfer-your-data.aspx
There is also a handy tutorial on how to upgrade from XP to Windows 8.1 on the same machine available from Microsoft here: http://windows.microsoft.com/en-us/windows-8/upgrade-from-windows-vista-xp-tutorial
So, the end of an era draws nigh. All good things must come to an end but, regardless of all the security warnings, and considering the number of vocal die-hard XP users out there, it's not too difficult to envisage an extensive XP botnet taking shape at some time in the not too distant future. Food for thought maybe?