Windows 10 Updates Troubles
This happened on my neighbor's computer. I was trying to help them with their issues on an Acer desktop running Windows 10 64-bit. Their computer updated on the night before, or early morning on October 1, and the update got stuck at 98%. After waiting hours with no progress, they re-booted. The computer gets to the welcome screen, then a message comes up about preparing Windows. And this can go on and on and on. If it finishes, it goes to a black desktop with all the icons gone, and the Taskbar and Start menu almost completely dead. They would get errors like "ctfmon.exe unknown hard error", "sihost.exe unknown hard error", or about the Desktop not being available. The System Tray was showing an icon of a gold-colored lock. This was not the October update, which also has it own issues.

Suggested Fix #1
I could right-click on the Taskbar and open Task Manager so…
One suggested way to fix this was in Task Manager:
Click on File, then Run new task, and type in c:\users. File Explorer will open
Go to your User folder with your name on it, and right-click on the Desktop folder, and choose Properties
Then click on the Location Tab, and click on Restore Default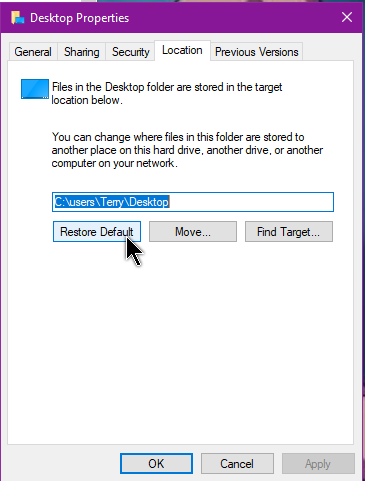 Suggested Fix #2
Another suggested option for fixing this was to replace the file from C:\users\Default\desktop to C:\Windows\system32\config\systemprofile\Desktop.
So, open File Explorer and navigate to C:\Users\Default\Desktop
Right-click on that Desktop folder and click on Copy
Go to C:\Windows\system32\config\systemprofile
Right-click on the systemprofile folder and click Paste
Reboot your system
Suggested Fix #3
Another suggestion was to create a new profile. I had to use the Command Prompt for that. I was able to right-click on the Taskbar and open the Task Manager. Then I clicked on File, then Run new task. I typed in cmd and also checked the box that says Create this task with administrative privileges. Then I typed in the following hitting the Enter key after each line:
net user /add usernamehere passwordhere
net localgroup administrators usernamehere /add
Note: Put in the Username for the account you want to create where it says usernamehere, and the Password you want to use for passwordhere.
Finally, The Update Fix
The next morning I got a call from my neighbor. Something had come up on their screen. It turns out it was the privacy option screen from the Windows installation. They had left their computer running overnight and it started updating. So, I let the system update to see what would happen, and sure enough, the computer is working properly again. Updates screwed it up, and Updates fixed it.
—