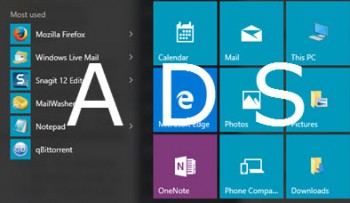 The latest Windows 10 Insider Preview build (10565) has seen the introduction of "ads" displaying in the Start Menu. Most reports are suggesting that this feature will almost certainly be included in the cumulative update due to be rolled out to all Windows 10 users in November.
At this point in time, these additional Start Menu items are exclusively promoting Windows Store apps, most of which appear to be free – Microsoft is calling them "suggestions".
A number of tech blogs are making a big hoo-hah over the inclusion of these so-called ads in the Start Menu, suggesting they represent yet another of Microsoft's impositions. And I would tend to agree with them, if not for the fact that the user can easily get rid of them either individually or across the board. Which, to my way of thinking, makes it all pretty much ado about nothing.
How To Disable Ads in Windows 10 Start Menu
To disable these ads (or suggestions), simply right click the item in the Start Menu and:
To disable individually: Select "Don't show this suggestion"
To disable across the board: Select "Turn off all suggestions"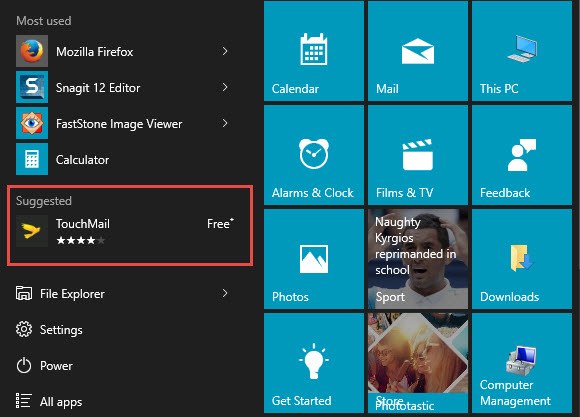 You can also disable all suggestions by navigating to Settings>Personalization>Start, and switching the "Occasionally show suggestions in Start" option to Off: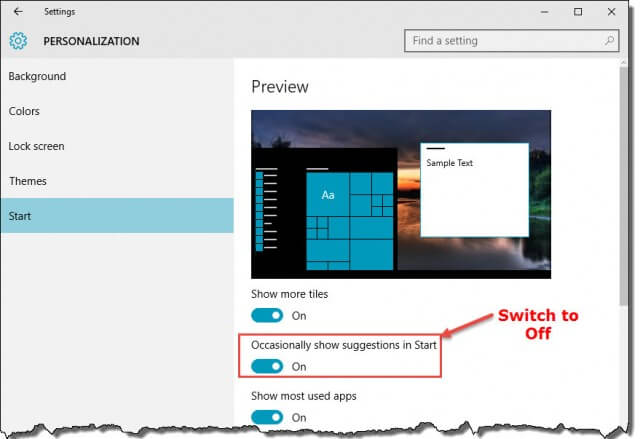 Bottom Line
Considering the Windows Store has been far from a resounding success, it's not entirely surprising to see Microsoft promoting apps in this manner. Are they genuine ads? I guess that's open to interpretation. Personally, provided they remain exclusive to the Store and don't start pushing commercial interests, I see no real harm. Especially when these "suggestions" can easily be completely disabled with just a simple flick of a switch.