Recovery
We normally think of recovery as something that happens after an injury or setback. In the case of a Microsoft account, however, it becomes a preventative measure. You need to get the "medicine" before your account becomes inaccessible, or "ill" if we want to stick with the analogy.
A Recovery Code is an alphanumeric string of characters that looks very much like the Product Keys we had to use in the pre-Windows 10 era. Remember? XXXXX-XXXXX-XXXXX-XXXXX-XXXXX
Armed with a Recovery Code, should the unhappy event of not being able to access your MS account occur, you will have a method of regaining control.
Acquiring a Recovery Code from Microsoft is pretty straight-forward and I'm here to show you how…
Getting Your Recovery Code
First, you'll have to go to Microsoft and sign in to your account. Once you've done that, you can access your account information by clicking on your avatar and choosing View Account: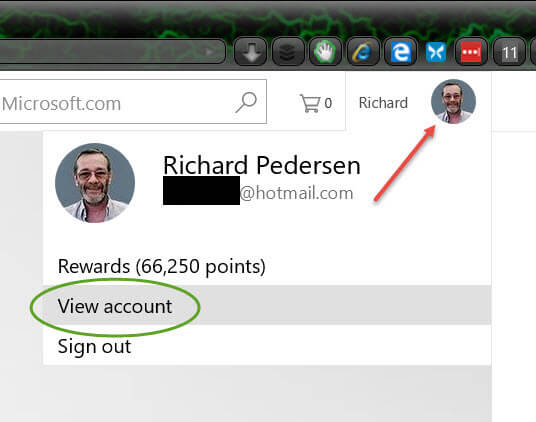 Depending on the size of your screen, you may see an Account Security link/button, or you might have to click on a little Drop-Down arrow next to Accounts. What you are ultimately searching for is a More security settings link to click on: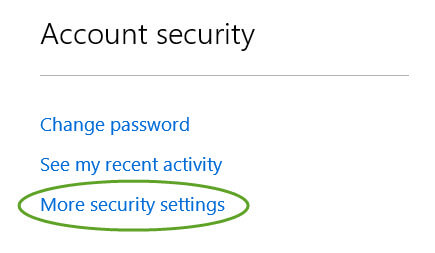 At this point, you may have to sign in again. To further prove that you are who you say you are, Microsoft may eMail you a verification code. Enter this code and proceed to the next step.
In the new window, drill down to an entry labeled Recovery Code:

If you have previously set up a Recovery Code, you will be able to replace it here, or choose Get Recovery Code if you have not. In either case, you will be presented with a new window containing your Recovery Code.
Save Your Recovery Code
The Recovery Code allows you access to your Microsoft account. It will also allow anyone who has it that same admittance. You really want to safeguard this information.
You can print it and store it somewhere
You can save it in an encrypted folder
You can simply save it on an external storage device as a text file.
Just keep it somewhere that only you knows about.
If Microsoft should ever ask for a Recovery Code, you now have one, and your life will be much simpler if you have trouble accessing your account in the future.
—