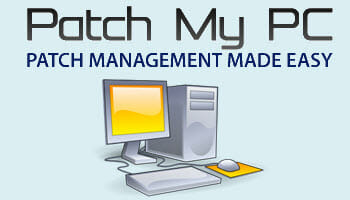 One of the common factors invariably included in advice from security experts is to always keep software up-to-date, and there is a very good reason for that. Despite the best efforts of software developers, some programs can (and do) include vulnerabilities which can potentially be exploited by cyber-criminals. That's why it's important to always apply security patches as soon as possible, in other words… keep your software up-to-date. This is particularly true of the more popular and widely-used programs, which represent a potentially lucrative target base for attackers.
A lot of programs already include their own automatic or manual updater but you might be surprised at just how many don't, and even in cases when an updater is built-in, they can often be unreliable. There are several programs available that will check your software for updates, and some which will even proceed to download and automatically install those updates for you, but I have never come across one of these types of programs as effective and configurable as Patch My PC – but wait, there's more – Patch My PC is also free, PORTABLE, and very small in size.
Patch My PC – Download & Usage
Download is a mere 1.7 MB single executable which scans 100% clean through Virus Total and locally through both Malwarebytes Anti-Malware and Zemana AntiMalware. Simply double-click the downloaded executable to run: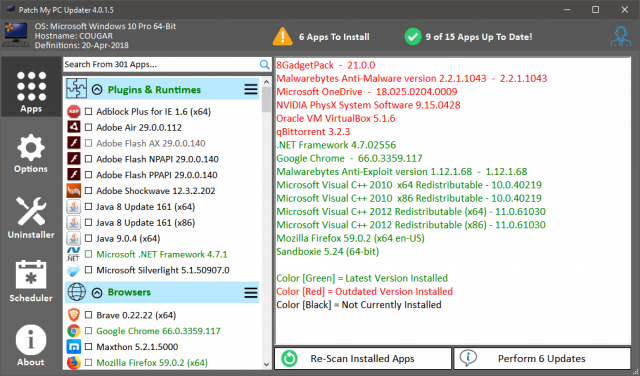 It will take a little while, just 5 seconds or so, for Patch My PC's main interface to show up. That's because it's initially working in the background scanning and assessing your software. So, when it does appear, Patch My PC has already done the first part of its job. In the left pane you'll see a list of all programs supported by Patch My PC (over 300) and the right pane displays the scan results. Note the color coding: Red = outdated software, Green = up-to-date software, Black = the software is not currently installed on your system (left pane only).
As you can see from the scan results above, on my main Windows 10 machine there are six programs for which updates are available. From there, if you are happy for all the flagged programs to be updated, simply click the Perform X Updates button at bottom-right to proceed with download and installation. For various reasons, I don't want three of these programs to be updated but I definitely want the remaining three to be updated. This is where Patch My PC's comprehensive configuration options come into play. In the left pane, simply right-click the name of any program and you'll be presented with an options menu which allows you to selectively apply different actions for different programs: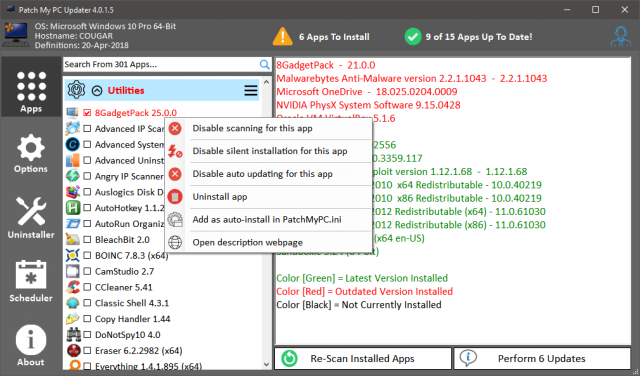 Or, if you just want to selectively prevent programs that have been flagged Red in the right-hand panel from updating, simply remove the tick from the corresponding entry in the left hand panel. Another useful feature is that you can download the latest version of any program included in the list (in the left hand pane), even if you don't have it installed — check the box next to the program and it will be downloaded and installed along with any other updates you choose.
Patch My PC's Options menu is also comprehensive and includes a number of useful settings, not the least of which is automatic creation of restore points prior to applying updates (not enabled by default). There is also a choice of language for downloaded programs (where available)– currently six languages are supported: English, Dutch, French, German, Japanese, and Spanish: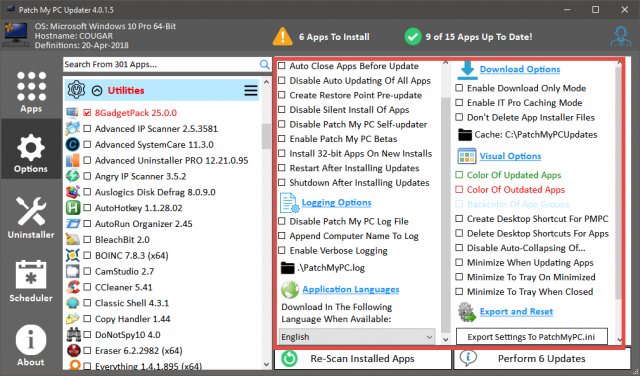 One of my main concerns regarding Patch My PC was how it would handle updating or installing programs that come bundled with unwanted extras– adware and the like. The description on Patch My PC's home page includes the following: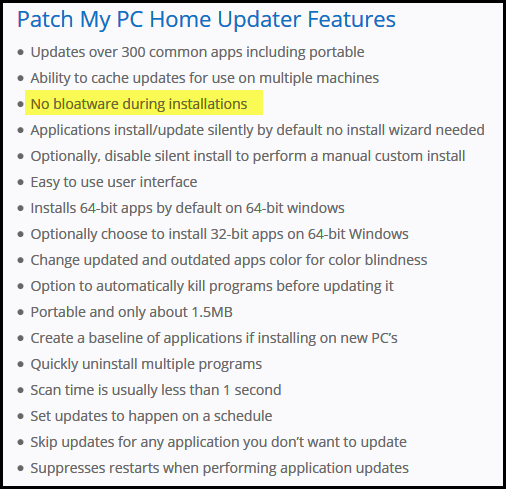 Not sure how this is achieved, but limited testing (obviously I cannot test every supported application) confirmed this to be accurate– Patch My PC provided clean installs for three programs known for bundling. Note also that Patch My PC installs 64-bit applications by default on 64-bit Windows operating systems. In fact, Patch My PC does lots of good things very well. You can even automate the entire process at user-defined intervals via Patch My PC's built-in scheduler (requires auto-start with Windows enabled):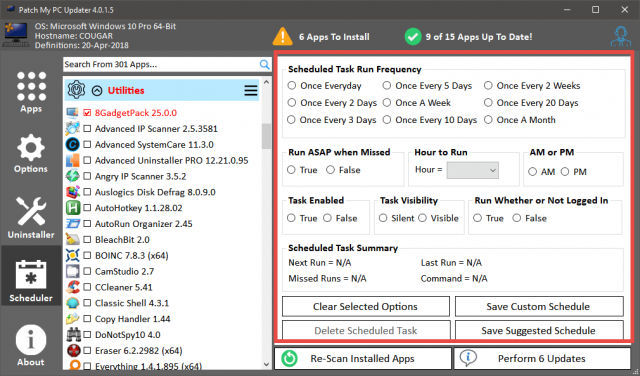 PROS

:

Free, Portable, Highly Configurable, Lightweight, Safe and Reliable.

CONS

:

Restricted to supported applications only– although, the list is comprehensive and includes most, if not all, popular applications. Also, the developer is very open to suggestions, via an active forum, for adding new software titles.
NOTE: Requires Microsoft .NET Framework 4.5
Patch My PC – VERDICT
I'm impressed with Patch My PC, by far the best of these types of applications I've come across, plus the fact that it's portable adds heaps of appeal. I've always tended to manually update my software and openly admit I was quite surprised when Patch My PC flagged six installed programs for updates. In the future, I'll be running Patch My PC periodically to keep an eye on this situation. Highly recommended.
LINKS:
—