Opera Reset
One of the issues I've had with Opera was that it had no reset button/option like most browsers do. I was going through the settings a few days ago. I think I was fooling around with the background themes and wallpapers and I noticed something new.
I don't know when Opera added this option, but it's finally there– a RESET button!
What Is Reset?
Basically, the Reset button resets the browser to mostly it's default settings. It reverts to the default search engine. It will disable all extensions and clear temporary data like cookies. However, it preserves your bookmarks, history, and saved passwords.
Using Reset
Alt + P is supposed to open the settings page, but is still not working in my copy of Opera, so:
1.Go to Menu in the top left-hand corner, and then Settings, or type about:settings in the browser's address bar and hit Enter.
2.Go to Browser in the left-hand menu, and on the right, scroll down slightly and you'll see Reset Opera. Click on the Reset browser settings… button.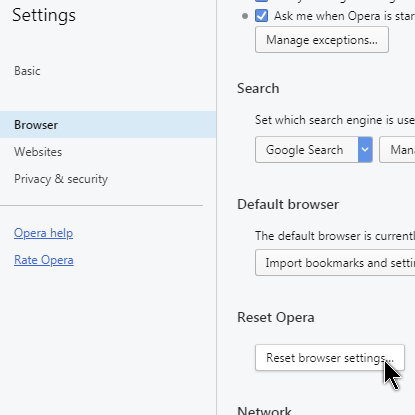 3. In the next box that opens, click on the Reset button, and that's it.
Shortcuts – Alt + P Not Working
I used to open Settings by using the keyboard shortcut Alt + P, but for some reason it has stopped working. Not a big issue, but I decided to dig around the Internet for a solution and ended up at Opera's own forum.
As with a lot of forums, you don't need to sign in to read them, but only if you want to post a question. Scanning through the forums I couldn't find any solution listed, so I posted my question and the next morning there was a reply.
Shortcut Fix
As shown earlier, open Settings. Click on Browser in the left-hand menu. Find the Shortcuts section. There, click on the Configure shortcuts button.
Scroll through the list of shortcuts to find the Open Settings options. I noticed two shortcuts listed: Alt + P, and Ctrl + F12. I first tried the Reset all button, but that didn't make any difference. Ctrl + F12 did work, so I decided to delete it first, thinking it was overriding Alt + P. That didn't work, either, so I reset it and now have to use Ctrl + F12 instead.
By hovering your mouse over a setting, you will see an option like Type a shortcut (to set your own). There is also an X on the end of each shortcut so you can delete it, and a Reset all button towards the bottom if you want to set the shortcuts back to their defaults.
Now it's simply a matter of remembering Ctrl + F12, instead. Funny thing is, I have Opera version 28 on my system as well, and Alt + P will not work there, either, even though it is the only one listed in the options and it is not configurable– at least, there is no configure button.
—