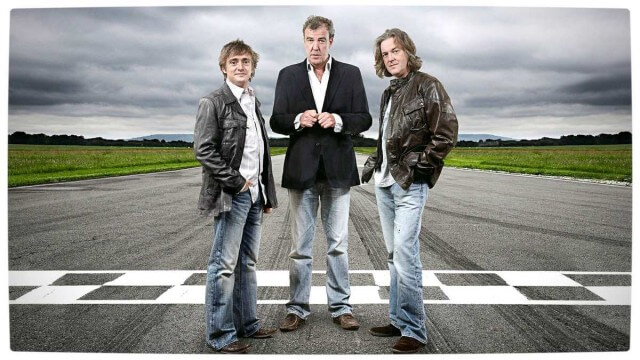 The BBC announced today that it would not be renewing Jeremy Clarkson's contract following "an unprovoked physical attack" on a Top Gear producer, which is said to have been provoked by Jeremy being served with cold ham sandwiches at a Yorkshire hotel after a long day of filming, rather than the customary steak, egg and chips . The incident came to light earlier this month following a "fracas" with TG producer Oisin Tymon, which James May later described as "a bit of a dust up".
Top Gear – It's a journey into the male mind, which I believe, is a really, potentially, very funny place — 'cause, let's face it, nothing happens there..
The BBC bad boy
Call me old fashioned, but I remember a time when a couple of chaps would fall out over something as trivial as a ham sandwich, blows would be traded along with a little language, after which they'd retire to the pub for an action replay over a couple of pints and that would be that. Not so today it seems, especially at the venerable BBC, or Auntie as it's sometimes referred to, and quite fittingly it would seem. The BBC has been responsible for taking political correctness to an entirely new level over the years and chaps like Jeremy Clarkson have had their cards marked for some time, not least for his dogged refusal to toe the PC line. He didn't get to this level of popularity by accident and since 1988 has been presenting Top Gear, particularly since its reboot in 2002, in a style which some might call risque, pompous, irreverent and macho. Many have also labelled the show as sexist and fueled by testosterone, which is reassuring, particularly since nearly 50% of its viewers are in fact women….erm, sorry BBC, that should read, persons of the female gender.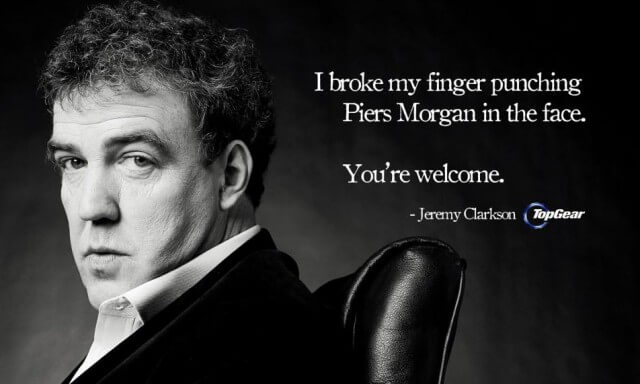 Love him or loathe him, Clarkson is popular across the divide and it could be that his old school principles of telling it as he sees it, are his universal appeal. Many have described Top Gear as simply boys with their toys doing what boys like doing and in that description, they wouldn't be far off the mark. Maybe the show appeals to the inner child in all of us and seeing a caravan or RV dropped from a great height for no other reason than it's simply great fun, is what rocks our boat. Jeremy Clarkson is who he says he is, enjoys a smoke, a few beers with the lads and a hearty meal in a decent restaurant like the rest of us and doesn't feel the need to justify that in a society at odds with itself over similar issues.
He's controversial because we as a society have made him so and perhaps that's most of his appeal. He once called Gordon Brown a 'one eyed Scottish idiot' and said that the BBC was obsessed with hiring black, Muslim lesbians to counter the number of white heterosexuals in its ranks and although not directly attributed to him, the H982FKL license plate fiasco was an accident waiting to happen and a direct provocation to Argentines over the Falklands war. That's not to say that smacking TV producers over a seemingly trivial issue is to be condoned in any shape or form, but resolving the issue privately and after the event is often very equitable, just ask Piers Morgan.
What now for Top Gear?
There is a chemistry between Jeremy, Richard and James which will be hard to recapture now that JC has gone. Many names have been put forward as a replacement and since the show is the most popular the BBC has ever produced with over 350 million weekly viewers globally in over 200 countries, in fact the biggest factual TV show in the world, the corporation has a very sticky problem on its hands. All three presenters' contracts are up for renewal this year and the fact that Sky and even Netflix have been mentioned in the same sentence, gives us some clue as to the direction the three presenters could move in. If they all go, Auntie will have an even stickier problem on its hands and let's not forget that the BBC is funded almost entirely by the mandatory TV license fee in the UK, which currently stands at around £145, and new presenters willing to fill these three pairs of shoes will be an expensive business.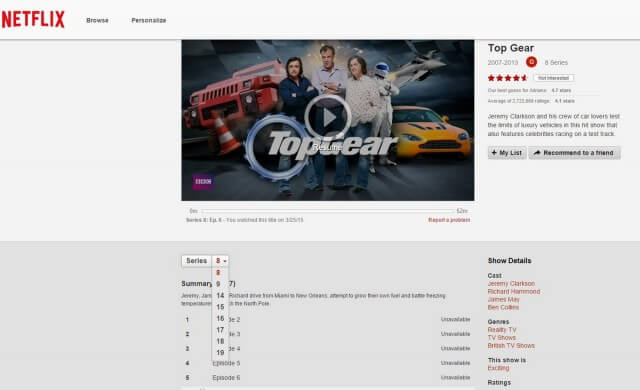 Need a TG fix?
Netflix has been streaming Top Gear for a while now, but with the recent Netflix/BBC contracts up for renewal (entirely unrelated to the Clarkson affair) it's worth checking your regional Netflix setup for an update. The good news is that Top Gear has been renewed and so, depending on where you are in the world, you should be able to watch either season 17 to 20 or season 8 to 19. I've been watching Top Gear in one shape or another since the 80's and since I'm now a Netflix junkie hippie, I'm determined to catch up on all the fun I missed over the years, even if it is just to catch a little of Jeremy Motormouth in action.