Thanksgiving is almost here which got me thinking of what tech gadgets I need. Yes, even this holiday needs tech to make it a true holiday. Christmas always has all the fun with everyone making lists of the tech gadgets they want. Why not find some gadgets that will help you through Turkey Day?
With family hanging around watching football, cooking, eating, telling stories and hoping that one relative doesn't sit next to you, we have tech that can make it more enjoyable. I have come up with 10 items that I know will make this day one to remember. Grab that credit card and get ready to start shopping.
Top 10 Thanksgiving Tech Gadgets
1. Grillbot Automatic Grill Cleaner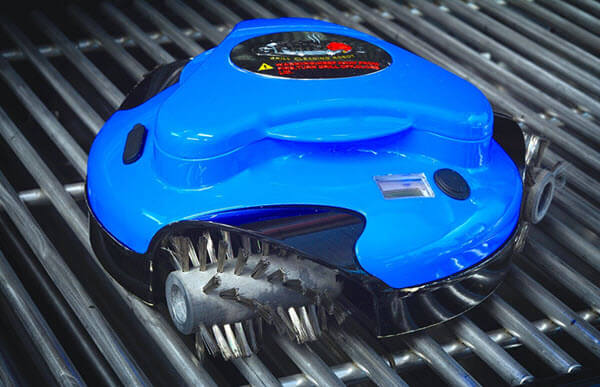 If you have never grilled a Turkey, then you are missing out. What better way to get that grill ready for Thanksgiving then this? A robot that will clean your grill for you. Yep, a man's dream! Something that will work without complaining about it. 😉 Here are some features of this little robot:
PUSH-BUTTON START: Hands free operation. Can be used before or after using your Grill.

REPLACEABLE WIRE BRUSHES: Brushes pop right off for easy cleaning and are dishwasher safe.

RECHARGEABLE BATTERY: Rechargeable Lithium Ion Battery.

THREE STRONG ELECTRIC MOTORS: Grillbot is equipped with three high-power electric motors to clean every inch of your grill

LCD ALARM & TIMER: Set it and forget it. Grillbot is smart and will notify you when finished with either the 10 minute, 20 minute, or 30 minute cleaning cycle
2. Cuisinart DCC-3200 14 Cup Coffeemaker 
In my family, if the relatives are coming over, you better have coffee on hand. Especially if it is my sister from Oregon– she loves her coffee! Even if you don't like java, you have to admit the  smell of a fresh cup of coffee is nice. With this coffee maker, you will be able to brew 14 cups to keep those coffee lovers happy. Here are few features this coffee maker comes with:
State-Of-The-Art technology to ensure hotter coffee without sacrificing flavor or quality

Brew strength control allows you to select regular or bold coffee flavor

Fully automatic with 24-hour programmability, self-clean, 1-4 cup setting and auto shutoff (0-4 hours)

Adjustable keep-warm temperature control

Gold tone, commercial-style permanent filter
3. Weber iGrill 2 Complete Master Kit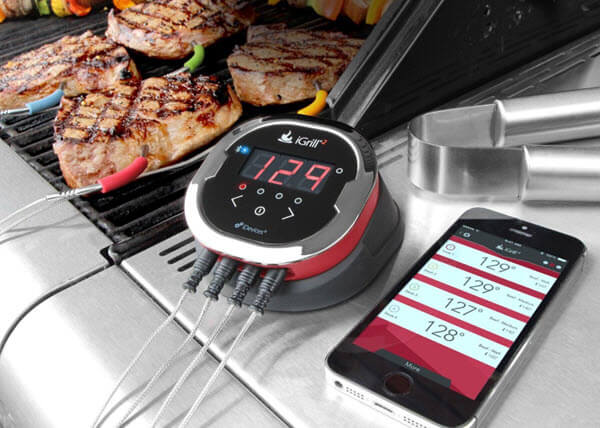 If you plan on doing any grilling, then this is what you need. With four probes, you can keep an eye on four different temps at once from your couch. Yes, you can watch your football game and not overcook the food. Here are some features this comes with:
Four-Probe Capability (comes with four) Color Coded, 48" Probe cord

150 Feet Bluetooth Smart Range (does depend on structures between unit and mobile device)

200 Hour Battery Life, Illuminated LED Display, Proximity Wake-Up, Two Viewing Angles

Magnetic Mounting, Custom and Preset Temperature Alarms, Min / Max Temperature Range, Graphing and Exporting

Simultaneously Monitor Multiple iDevices Connected Products, Social Sharing, Exclusive Recipes
4.Starfrit Rotato Express-Electric Peeler
Do you hate peeling potatoes for your big family meal? Why not have a gadget that will peel them for you? Here it is, the one tech device that will make this Thanksgiving way better. Here are some of the features for this peeler:
Peels potatoes. fruits and vegetables instantly with the push of a button

The Robotized arm adjusts to every thickness, shape and texture, from potatoes to tomatoes to rutabaga and avocados; also zests citrus fruits

Includes a handy thumb-knife to scoop out the potato "eyes"

Built-in storage underneath the Rotato– compartments for four spare blades plus battery storage and the handy thumb-knife

Operates with a 6V adapter (included) and can also function with four AA batteries (not included)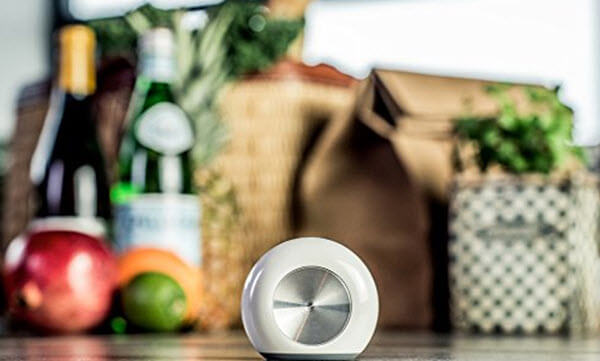 This will make sure you do not forget all the groceries you need for this Thanksgiving dinner and beyond. Check out the features this comes with:
Hiku lives in your kitchen, scans bar-codes and recognizes your voice, creates a shared shopping list

Use the Hiku shopping list App at the store, any store, and your list is always with you

You can also connect Hiku to online stores to make online shopping a breeze
6. Butterball XL Electric Fryer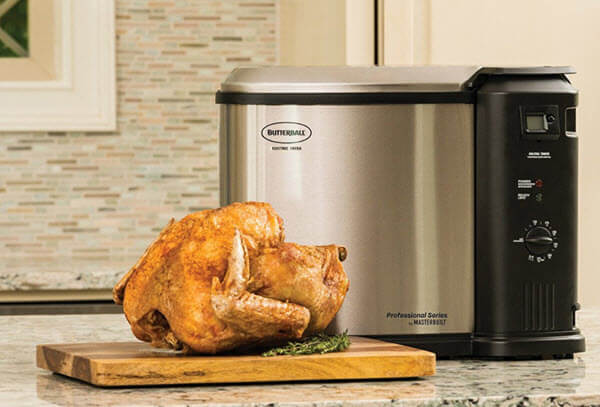 Time to fry up some turkey for that family meal. With this you won't burn down your house. Butterball knows how to fry up a turkey or any bird. Check out the features on this fryer:
Aluminum basket with patented drain clips

Oil drain valve for easy clean-up

Dishwasher-safe components (pot, basket, lid, drain valve)

Designed and tested to meet commercial standards

Magnetic break-away cord for safety
7. TCL 55S405 55-Inch 4K Ultra HD Roku Smart LED TV
You have to have a great TV to watch the Thanksgiving football game, right?  I found this 4K TV; it has some nice features and the price makes it a perfect choice. I wonder if my wife would let me get this? Check out some of the features I mentioned:
Dimensions (W x H x D): TV without stand: 49.1″ x 28.5″ x 3″, TV with stand: 49.1″ x 30.8″ x 8.7″

Smart functionality offers access to over 4,000 streaming channels featuring more than 450,000 movies and TV episodes via Roku TV

Pairs 4K Ultra HD picture clarity with the contrast, color, and detail of High Dynamic Range (HDR) for the most life-like picture

Direct-lit LED produces great picture quality

120Hz refresh rate allows fast moving action scenes to be seen with virtually no motion blur
8. My Arcade Retro Arcade Machine Handheld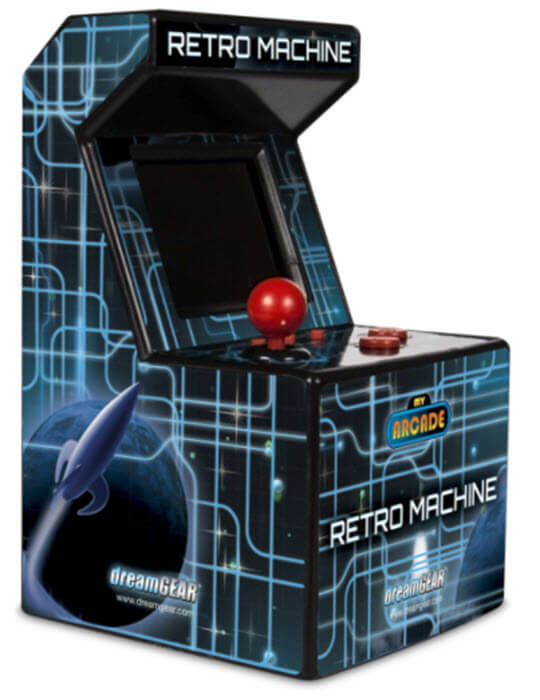 Here is something that will keep those kids entertained. I think this might keep me entertained, too, so I guess I'm buying one of these for myself. Check out how many games this little handheld comes with:
200 built-in nostalgic games bring back the fun of an arcade in this hand-held gaming cabinet

Joystick and button controls for realistic arcade machine play, plus full color hires, 2.5" LCD screen makes all of the games come alive

Portable, play in your hands for convenience or on a table/desk for gaming stability.

Authentic game sounds to enhance play, plus a volume control to make mom happy!

Runs on three AA standard alkaline batteries for hours of running, shooting, driving high speed, sports, and education games.
9. Salton SMW1508 Gravy & Sauce Boat Warmer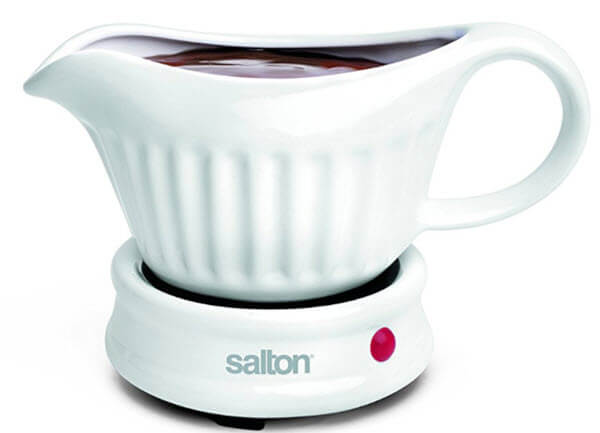 Never let grandma's gravy get cold again. This gravy boat will keep it nice and warm for that family dinner. How did we ever live without this?
Cordless warmer keeps contents at ideal serving temperature after unplugging

Detachable cord for tabletop serving

Easy-pour spout

450ml serving boat
10. Cuisinart CEK-40 Electric Knife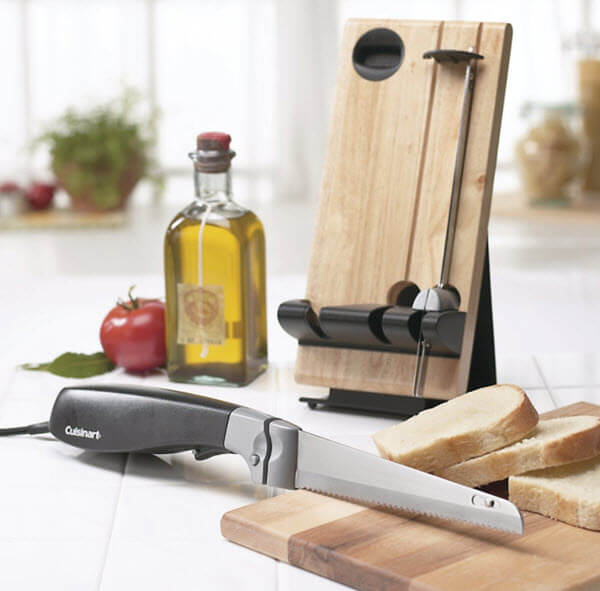 Who needs to move their arm back and forth cutting that turkey or slicing that bread when the knife can do all the work for you? This electric knife is the perfect helper for your Thanksgiving turkey carving. Check out the cool features this comes with:
High-quality stainless steel blades– BPA Free

Wood block storage tray

Includes bread blade, carving blade and butcher block holding tray

Ergonomic handle

Product built to North American Electrical Standards
After writing this article I'm looking forward to some turkey. You now have the tech gadgets that will make your holiday better. See? Technology can make things a lot more fun.
Which one would you choose?
—