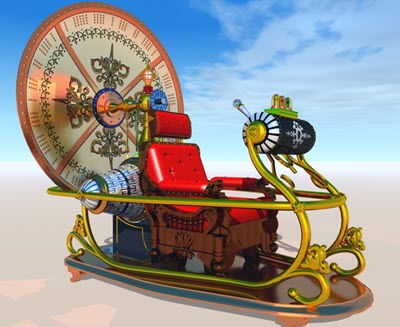 In response to an article we published recently regarding System Restore, reader "Chris" submitted a comment saying that his Windows 7 does not retain system restore points. This appears to be a quite common issue with Windows 7, where existing restore points are deleted on reboot. The same issue also applies to my Windows 7/8.1 dual boot system – when I boot from Windows 8 into Windows 7 and then back again, all the Windows 8 restore points are deleted… and vice versa.
It hasn't bothered me unduly because I regularly create full system images, however, it would be nice to also have some system restore points saved as an additional recovery resource. So, prompted by Chris's comment, I decided to check out a freeware from Toolwiz called "Toolwiz Time Machine".
Description as per the developer:
Toolwiz Time Machine allows users to create no more than 24 snapshots of your system partition on a regular basis to backup your system. If your current system gets damaged or crushed or you are not just satisfied with it, you can use Toolwiz Time Machine to rollback your system to any snapshot you want.

Powerful rollback utility to prevent data loss and improve PC security
Easy & Quick to create snapshots to backup your entire system and disk partition
Provide instant and comprehensive recovery of your entire system and disk partition
Toolwiz Time Machine – Download & Installation
Download is a relatively small 3.5 MB which scans 100% clean through Virus Total. Installation is straightforward and bundle free. During the installation process you'll be asked to select a cache size for storing the "snapshots" created by Time Machine – this then equals the total amount of space accumulated snapshots will occupy on the hard drive:
A size of 2048 MB (or 2 GB) is set by default but you can change this to suit simply by utilizing the associated up and down arrows. Bear in mind that Toolwiz Time Machine is limited to saving no more than 24 snapshots. That said, if free hard drive space is not an issue, too much would be preferable to too little. I bumped my allocation up to 7168 MB, which equates to 7 GB
(A reboot is required to complete the installation)
You should then see a new entry added to the root of your system (C) drive:
Toolwiz Time Machine – Usage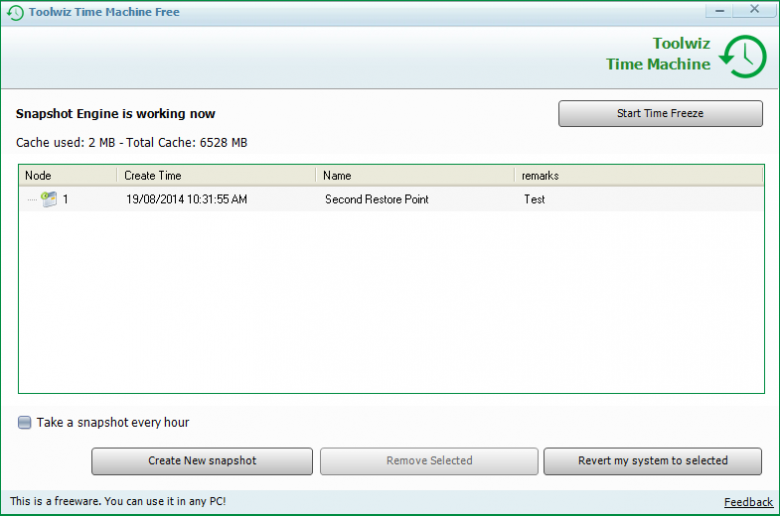 As you can see from the above screenshot, there is very little in the way of options and settings.  Just 3 buttons to; create a new snapshot, remove one or more previously saved snapshots, and revert (or restore) the system from a selected snapshot. Plus, an option to enable automatic creation of a new snapshot every hour.
Toolwiz Time Machine utilizes a different system for creating snapshots than that of conventional Windows restoration which, according to an eight-point description from Toolwiz, introduces a number improvements. Toolwiz's explanation is quite long and technical, I openly admit much of it is over my head. You can check it out for yourself on the home page here: How does Toolwiz Time Machine compare to conventional Windows restoration.
One of the main differences, and the one I am guessing will hold most relevance for potential users, is that, unlike Windows system restore, TTM's snapshots also include personal data.
Toolwiz Time Machine – Bottom Line
During testing, the TTM snapshot restored fine on my Windows 8.1 system, with no discernible problems. However, considering the vast variety of different software and hardware configurations involved, I wouldn't be declaring absolute assurance based on just one successful restoration on just one machine.
I was very disappointed that TTM doesn't include any flexible scheduling options to automatically create snapshots at regular use-defined intervals. The one snapshot per hour setting is far too often for my liking, and I couldn't locate any further settings. So, apparently, it's every hour or manual.
TTM's official page also states:
Toolwiz Time Machine supports snapshot mapping; developers can mount a snapshot at any time as a separate partition and you can find your files or folders from the previous snapshots.
I could not locate any method from within the program to mount snapshots either.
It's also important to note that System Restore will not work with TTM installed, at least that was the case on my Windows 8.1 machine. So, it's either one or the other.
Toolwiz isn't the first developer to delve into the world of of instant recovery/snapshot software of course, the ill fated Comodo Time Machine readily comes to mind. I'm pretty sure Comodo shelved its Time Machine project because of serious issues caused by the software.
A quick check for references on the Wilders Security Forum revealed that Toolwiz Time Machine has also been susceptible to creating similar issues, the latest reference being from March this year. Not sure if the related issues have since been fixed or not, the Toolwiz home page is showing the latest Time Freeze version was released some 8 months ago, in December 2013.
One thing for certain, while it may all sound good in theory, history suggests that this type of software does have the potential to cause issues and maybe even seriously screw up the system. Me, I'll be sticking with Aomei Backupper and full system images.
Have you ever used Toolwiz Time Machine? Please let us know all about your experiences via the comments.