A Melbourne (Australia) mother has managed to put an innocent man through hell after mistakenly believing he was photographing her kids in a shopping center.
The mother snapped a photo of the man as he was "taking off" (otherwise known as simply leaving the store) and posted same on her Facebook page along with her description of the encounter with the "creep", saying he'd been reported to management and police and that he'd be charged if he turned out to be a registered sex offender.
By the time news of his public shaming finally reached the man in question, the post had been shared 20,000 times and he had even received death threats. The man immediately went to the police and told his side of the story which, following a forensic examination of his phone and further investigations, the police confirmed was the truth.
Apparently, the man had been visiting the store when he spotted a large cut-out of Darth Vader and decided to take a "selfie" next to the cut-out to show his three children. He saw a group of children nearby without any parents present who he assured he'd be done in a jiffy, saying… "Ill only be a jiffy, I'm just taking a selfie to send to my kids".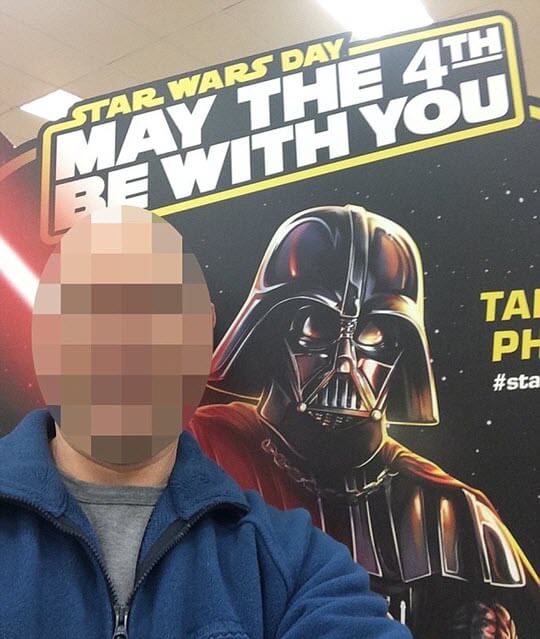 By the time they related the story to their mother, the children had somehow managed to twist this innocent episode into something much more sinister, or the mother had – and the rest, as they say, is history.
The Facebook post has since been retracted but, of course, the damage had already been done. Interestingly, the retraction post has been viewed only one-fiftieth of the times the original post was viewed – bad news travels fast!
If ever we needed an example of just how dangerous social media can be, this story is surely it. An innocent man has been humiliated and seen his reputation tarnished because this mother chose to publicly post an uncorroborated, unsubstantiated story on Facebook based on a secondhand account from children. Hmmm.
Detective Acting Inspector Allan Price from the Knox Police said the mother was acting with the best intentions and is deeply apologetic, but added that the incident serves as a reminder of the dangers around social media and spreading inaccurate and alarming information.
'We would encourage anyone in a similar situation to contact police and report the matter as opposed to turning to social media,' he said.
Yes indeed.
<source>