Rampant processes can be a bane for computer users, often chewing up resources which would be better served elsewhere. Unfortunately, Windows doesn't offer too many options for dealing with these issues natively and that's where system optimization tools such as Process Lasso come into their own.
Process Lasso is specifically designed to automatically manage process prioritization in real time. At its core is the unique 'ProBalance' technology which ensures that high priority (user initiated) processes receive adequate resources for optimum performance and are not hampered by other processes running on the system.
Process Lasso – Features & Usage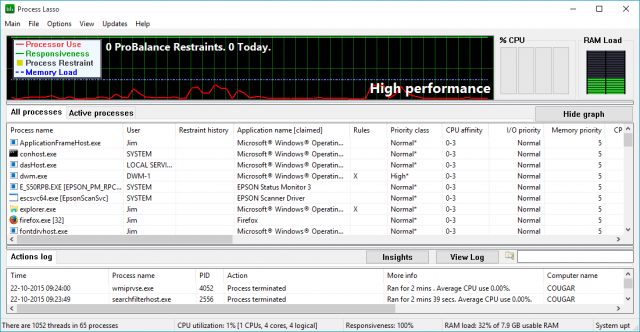 Process Lasso is offered as a feature limited free version or full-featured Pro version (some Pro elements are enabled in the free version for a short trial period). The free version also includes a nag screen on startup and occasionally when you bring up the program from the system tray. However, the free version does include three full-featured main components – ProBalance, SmartTrim, and IdleSaver.
When you run Process Lasso 8 for the first time it displays comprehensive details of processes running on your system, including an 'Actions log' at the bottom highlighting when new processes are started or terminated. Much of this information may not be a great help to less experienced users but this is the sheer beauty of Process Lasso, ProBalance is enabled by default and fully automates the whole system of prioritization, while more experienced users can dig down and configure settings to suit their own purposes.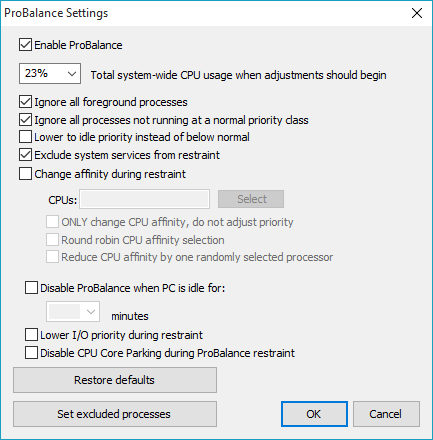 SmartTrim is a relatively new intelligent RAM optimization component, first introduced in v7.8 and now enhanced considerably in v8. SmartTrim is not enabled by default but you can easily enable it (Options > SmartTrim) and just let it do its thing or configure parameters to suit. Again, depending on level of user proficiency, the choice is yours – automation or configuration.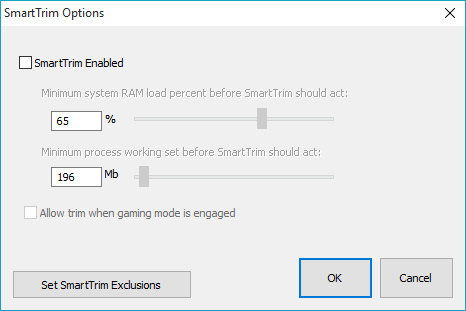 IdleSaver is, in my opinion, a great concept which automatically switches between power profiles depending on whether the system is idle or active. Meaning that you'll get optimum performance while you are working on the computer (or the system is working in the background), and a power saving mode whenever the system is idle.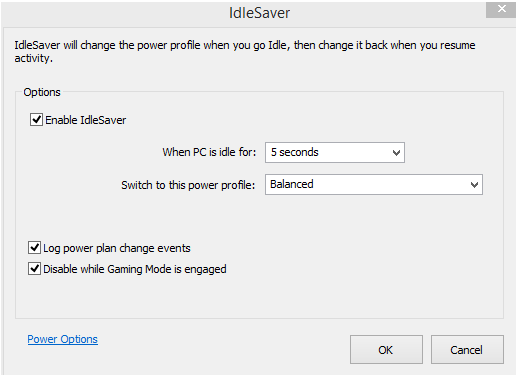 Gaming Mode is a new component which provides maximum performance by limiting background process resource usage when playing games. However, while available in the free version, it is apparently not fully automated.

Not being a gamer myself I'm unsure of the exact implications. Maybe someone with both gaming and Process Lasso experience might enlighten us.
Process Lasso's default settings will suffice for most users but it also offers plenty of opportunities for more advanced users to configure the software to suit their own preferences. For example, you can:
Adjust process priorities and CPU affinities
Change settings for specific processes
Adjust I/O and memory priorities, either permanently or for just one instance
Add exceptions (for processes you don't want included)
Process Lasso Bottom Line
Process Lasso works well right out of the box but users can also choose to be in total control if they'd prefer. In a genre which tends to attract scammers and snake oil peddlers, Process Lasso is a breath of fresh air – safe, lightweight, and effective.