As you know, footnotes are used in documents to provide references or annotations. It is very easy to insert automatic footnotes in documents using Word, but suppose you would like to use a custom footnote mark?
Turns out you can do this and just as easily as you insert the automatic footnotes!
Follow the steps below to learn how:
Place your cursor where you would like your custom footnote located in your document.
Display the References tab on your Ribbon.
In the Footnotes group, click the icon at the bottom right-hand side to display the dialog box.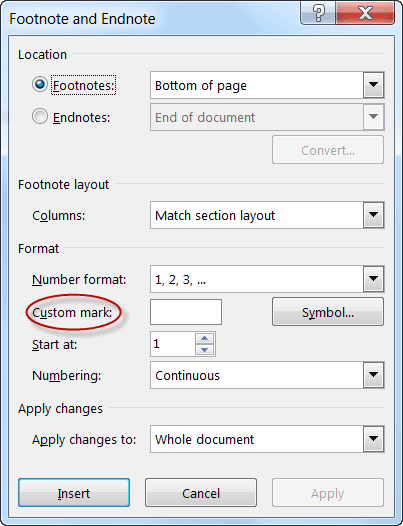 In the Custom Mark box, enter the character(s) you would like to use for your custom footnote mark. If you would prefer a special symbol as your custom mark, click on Symbol and make your selection.
Click on Insert and your custom footnote mark will appear in your document and your cursor moves to the bottom of the page where your footnote will appear.
Key in the text of your footnote, formatting it as you normally would.
Click someplace in the body of your document to close the footnote box.
—