Windows 10 Updates
I, for one, no longer trust Microsoft to deliver bug-free updates. You need only refer to all the buggy patches they have foisted upon the masses during 2017. For that reason, I have gotten into the habit of deferring updates for a couple weeks to let the bugs shake out of the carpet. With all the "rings" they have set up, you would think the bugs would be discovered and dashed before they hit the general populace. Not so… it isn't working out that way.
The thing is that the Fall Creators Update is due to begin rolling out to qualified machines this Patch Tuesday, October, 10. And it is a major update at that. There are so many things that could go wrong and I don't want to be on the receiving end if there are problems. Microsoft doesn't add all those "rings" for no good reason. They should add more "rings", I think.
Today, I would like to share a simple way for you to defer these updates (for many months if you deem it necessary) and still keep getting Security Updates along the way. Security Updates may be buggy, too, but the rewards in this case outweigh the risks.
How To Defer Updates in Windows 10 Pro
Use the Windows Key + I to open the Settings App
Click on Update & security
Click on Advanced options
That should bring up a window similar to this one: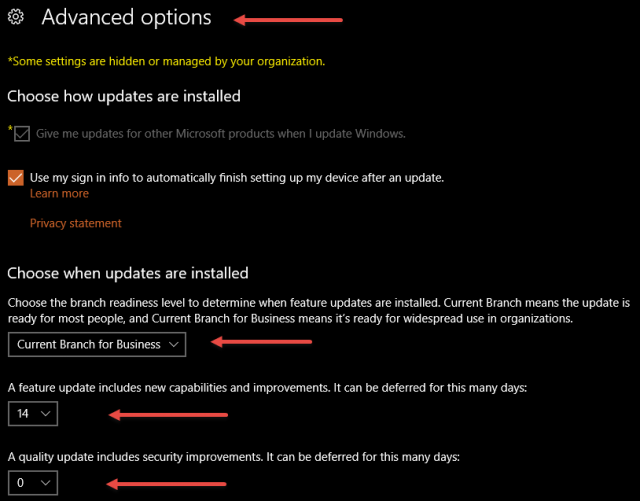 In the section labeled, Choose when updates are installed, there are three selections we should talk about:
1. Current Branch, or Current Branch for Business:
Current Branch — Defers updates for up to 365 days
Current Branch for Business — Defers updates for up to 365 days after the update becomes available for businesses, usually four months later than regular consumers
2. Feature Updates — Choose the number of days you would like to defer the update
3. Quality Updates — Leave this at zero if you want to continue receiving the Security Updates in the mean time
Note: The updates will continue in normal fashion if you revert the settings to zero (0).
Windows 10 Home
The Home version of Windows  does not have dedicated settings to defer updates, but nearly the same thing can be achieved by setting your Wi-Fi and Ethernet connections to Metered. You will find these settings in the Settings App under the Network & internet option.
You may see two options in the left panel:
Wi-Fi
Ethernet (in this window you will have to choose which connection you want to manipulate; choose the one you use to connect to the internet)
In one or both sections you should see an area labeled Metered connection. Simply toggle these to the ON position in order to block Feature Updates and Quality Updates. Priority Updates will still continue as normal.
Note: If you toggle these back to the OFF position, then the updates will continue at their normal pace.
Your turn
How do you feel about Microsoft's trustworthiness of late regarding updates? Will you be deferring updates on this coming Patch Tuesday?
Richard
—