ScreenTips are words, phrases or perhaps a graphic that displays a box of text when you hover your mouse over it in MS word. Usually, a Screentip will supply you with details regarding the item over which you are hovering your mouse. I am sure that all of you have seen them at some point in time while using MS Word. But did you know that you can recreate ToolTips in your Word 2010 documents using the ScreenTip feature? No?
Follow the steps below to learn how:
Firstly, you need to be certain that ScreenTips are enabled.
Click File | Options.
Go to the General tab in the left-hand pane and in the ScreenTip Style area, select Show Feature Descriptions in ScreenTips.
Now that you are certain that the ScreenTips feature is enabled, you can link a ScreenTip to a word, phrase or object.
Follow the steps below to learn how:
Select either a word, phrase or object you would like a ScreenTip attached to and insert a Bookmark.
In Word 2010 click on the Insert tab and click Bookmark in the Links area.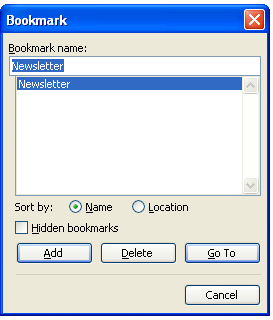 Name your Bookmark a name that you will remember. Most folks name their Bookmark the same as the word they are liking it to.
Click Add.
Now, you just need to make your ScreenTip.
Select the text, phrase or object again.
Click Ctrl + K, which will display the Insert Hyperlink dialog box.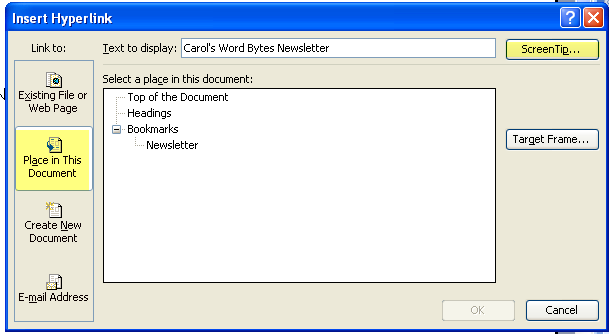 Click the Place in This Document button on the left-hand side of the dialog box.
Word displays a list of locations. In that list, select the name of the bookmark you created.
Click the ScreenTip button.
Word displays the Set Hyperlink ScreenTip dialog box.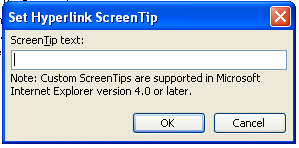 Key in the text you want to use for your ScreenTip.
Click on OK.
Click OK once more to close the Insert Hyperlink dialog box.
Now, when someone hovers over the word or phrase the ScreenTip appears. If they decide to follow the hyperlink, they will just end up right back at the bookmark.
Your phrase will now appear as if it is a link, with blue underlined text. If you do not want this type of formatting, apply a different format to the hyperlinked phrase or change the characteristics of the Hyperlink style.