Browsing History
Did you know that Amazon saves your browsing history? Have you noticed when you are shopping on Amazon they keep suggesting other items you might like to buy? This is partly to do with them saving your browsing history and trying to get you to order more stuff.
Example: I'm looking at pens and they suggest I might like a new 4K TV. Of course I would like a new 4k TV (I look at them often dreaming of getting one), but unless it is on sale for $10 I will have to pass.
This started me thinking that some people might not know how to delete their history or even turn it off. Plus the bonus to clearing the Amazon browsing history is we can delete individual items in case of real life trackers (possibly a spouse?). Not talking about my spouse– I never hide anything from her ;-). Enough talking, let us get these steps laid out.
How To Clear Your Browsing History
Step 1: Log in to your Account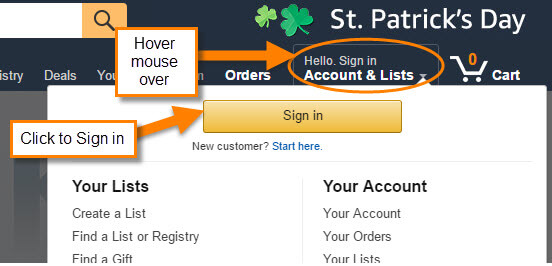 Step 2: Once in your account look to the top bar under the search box. Click on the phrase, Browsing History, or hover over the Browsing History link and click on Edit. Either way, this will get us to the next step.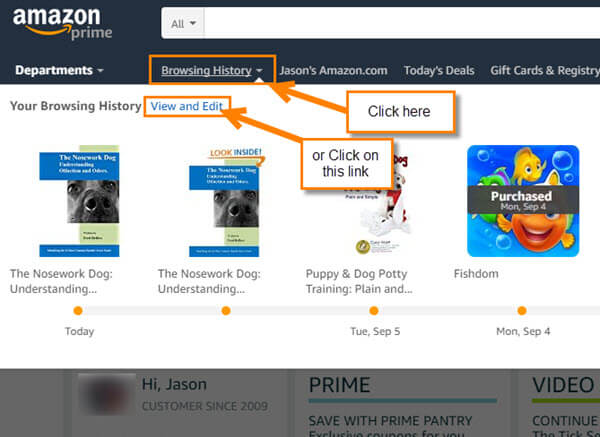 Step 3: Now we will be on the Browsing History page. From here, look to the far right and there should be the words, Manage History. Click on the adjacent down-arrow.
Step 4: This will bring up the Mange History line of options. To remove individual items from the history simply click the Remove button on each item. If you would like to clear the entire history, click the Remove all items button next to the wording 'Manage history'. Next, there will be a warning window which you will need to click to confirm that you want to delete this history.
Step 5: That is how to clear the history. Now we want to turn off Tracking. The way to do this is to click the On/Off button. Once that is done it will stop them from keeping track of your browsing. Or as they like to say, "Amazon can keep your browsing history hidden. When you turn your browsing history off, we will not show items you click on, or searches you make from this device."

Now you know how to clear the Browsing history.  Do you care if a website saves your history? Do you find it helpful or intrusive?
—