The latest version of Geek Uninstaller, a popular third-party program for removing installed software, now also supports removing Windows Store apps.

Geek Uninstaller is a portable program which not only uninstalls software but also scans for and removes leftover traces, in much the same way as Revo Uninstaller. However, Geek Uninstaller's free version includes full support for the removal of both 32-bit and 64-bit applications whereas Revo Uninstaller's free version only supports removing 32-bit applications (full support for 64-bit applications is available only in Revo Pro).
The latest update to Geek Uninstaller introduces support for the removal of Windows Store apps in addition to desktop programs. Thankfully, Geek Uninstaller has not merged Windows apps with the list of desktop programs and maintains both lists separately, making it much easier for users to identify which is which.
Uninstall Windows Store Apps
To view the list of Windows apps, you need to click View and then select Windows Store Apps: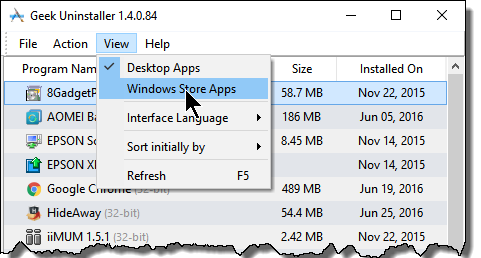 From there, you simply right click an item in the list and select Uninstall: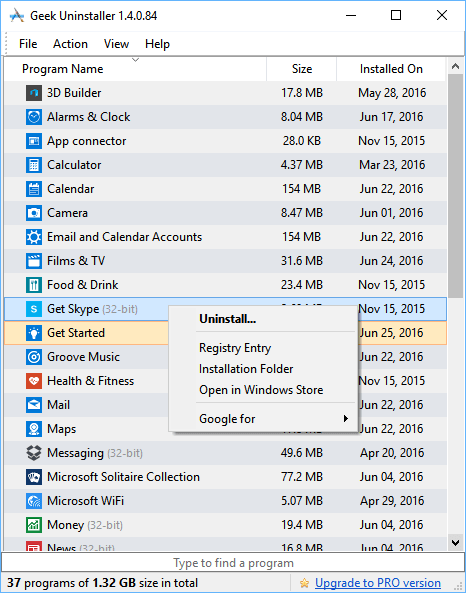 I realize this can also be achieved natively – by locating a particular app in the Start menu's "All Apps" list, right clicking the app and selecting Uninstall – however, this method will often leave traces behind whereas using Geek will achieve a cleaner uninstall. Removing the 'Get Office' app via Geek Uninstaller for example reveals 251 potentially leftover items marked for deletion: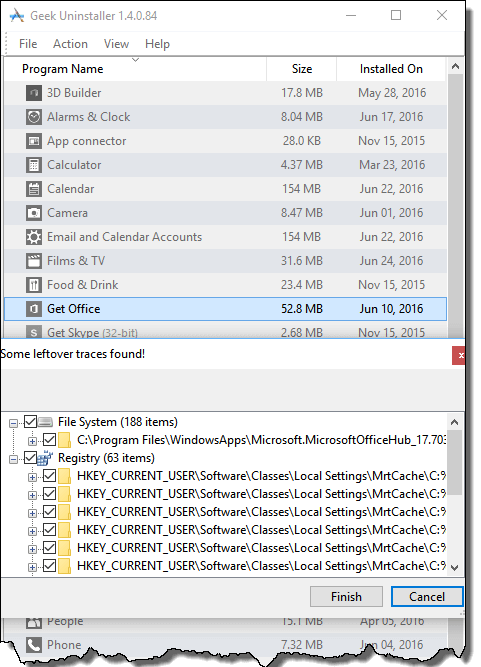 While this is a very handy addition to Geek Uninstaller's features, it should nonetheless be used with caution as removing system apps could create problems. For example; if you remove the Store app you will no longer have access to the Windows Store and won't be able to download the app again.
Geek Uninstaller is my go to software uninstaller and highly recommended – download direct from the developer here: Geek Uninstaller