Mozilla has enjoyed a decade long arrangement with Google whereby the Firefox browser has shipped with Google search as default search engine. In fact, the deal with Google has accounted for a large percentage of Mozilla's overall revenue during that time. Now, as the current deal with Google nears expiration, Mozilla has decided to change tack and is heading in a more diversified direction, including dropping Google as its default search engine in favor of a new 5-year deal with Yahoo.
So, no more Google as the default search engine in Firefox. Instead, Firefox users in the U.S. will now be getting Yahoo as the default search engine. Of course, alternative search engines (including Google) will remain easily accessible and selectable within the browser, as per usual: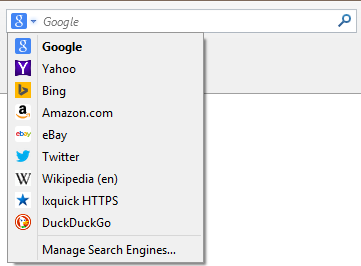 Today we are announcing a change to our strategy for Firefox search partnerships. We are ending our practice of having a single global default search provider.

Under a new five-year strategic partnership announced today, Yahoo Search will become the default search experience for Firefox in the U.S.
Starting in December, Firefox users will be introduced to a new enhanced Yahoo Search experience that features a clean, modern interface that brings the best of the Web front and center.
Under this partnership, Yahoo will also support Do Not Track (DNT) in Firefox.
Google, Bing, DuckDuckGo, eBay, Amazon, Twitter and Wikipedia will continue to be built-in as alternate search options.
Mozilla's new approach will see default search engine changes for other countries as well. Firefox in Russia, for example, will now sport Yandex Search as its default. In my opinion, this is a good move by Mozilla as it spreads the organization's revenue over multiple sources rather than having all the eggs in one basket.
Mozilla's official announcement also includes the following reassurances:
All Countries

Firefox is a browser for everyone, regardless of search preference.
Firefox will now have more choice in search provider than any other browser, with 61 search providers pre-installed in Firefox across 88 different language versions
While we have decided to not renew our agreement for global default placement, Google will continue to be a pre-installed search option.
Google will also continue to power the Safe Browsing and Geolocation features of Firefox.
We will now focus on expanding our work with motivated partners to explore innovative new search interfaces, content experiences, and privacy enhancements across desktop and mobile.