We're all susceptible to the traps and pitfalls encountered during our abbreviated stay on this mortal coil, none more so than those of us who dare venture into the realm of online shopping ~ caveat emptor (let the buyer beware!)
Warning – Rant Follows!
I deal with several online stores myself, you know the ones I mean, with names along the lines of GreatDeals and TopBargains. I operate this way purely for convenience, for a lazy sod like me there's nothing better than 'delivered to your door'. One of the things that irks me no end is how these vendors fiddle with the handling and delivery charges according to an item's pricing. They'll either sell an item at an inflated purchase price with discounted handling and delivery charges OR at a discounted purchase price with inflated delivery and handling charges. Either way, the bottom line will generally be near enough to identical.
For example; I recently received an email catalog trumpeting $2.00 handling and delivery fees storewide. Included among the featured products was an item priced at $109.00, plus, of course, the $2.00 delivery fee, totaling out at $111.00. Just this morning I received another email catalog from the same vendor advertizing the exact same item at a super-dooper, fantasmagorical discount price of $89.00. How much was the handing and delivery charge? $21.95, which tots up to $110.95.
I've seen far worse examples of this price juggling; on one occasion I came across a nice Swarovski crystal pendant I thought 'she who must be obeyed' might like, priced at a very reasonable $16.95. When I checked the delivery and handling fee, it was an excessive $18.95. I sent an email to that vendor pointing out that delivery charges should NEVER exceed an item's purchase price.
The one thing I've learned – regardless of which way you go, either discounted sale price or reduced delivery fees, the perception of saving money is a fallacy.
Warranty – What Warranty?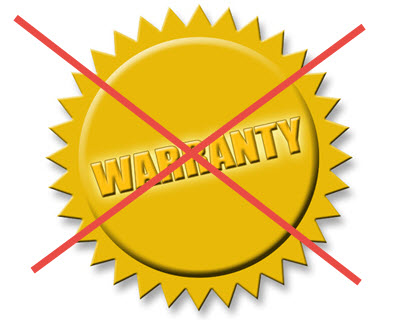 I tend to shop only for less expensive items online or, if I am looking for a more expensive item, I'm only interested in those which include a manufacture's warranty. Why? Because in most cases, the vendor's warranty is worthless. Why should the consumer have to pay postage charges to return an item that is broken through no fault of their own? In many cases, the cost of return postage is prohibitive, it just isn't economical, and this is exactly what the vendors rely on.
And how about some of the warranty stipulations, such as the item must be returned in its original packaging. What if an item with a one year warranty breaks at the 11 month point, who is still going to have all the original packaging at hand?
I even read a warranty stipulation from one vendor stating that the item must be returned in its original UNDAMAGED packaging. Seriously!! All those little sealed plastic bags, undamaged? What about items entrapped inside plastic casing, many of those require nothing less than a hammer and chisel to extricate the goods. I don't believe I've ever unpacked a delivered item without damaging the packaging in some way, it's nigh on impossible. What this particular vendor was actually saying is… we don't have a warranty!
The moral of the story, and most stories relating to issues involving online purchases – always read the fine print, the devil is in the details!
Overall though, I must say I've enjoyed a fairly happy relationship with online vendors. Not that I haven't experienced my fair share of hiccups along the way, however, I've generally found the vendors eager to please; whether that be from fear of harming their reputation or potential repercussions emanating from our strict consumer protection laws here in Australia, I really don't know.
Live Support & The Language Barrier
I don't wish to bore you but I must relate one particular incident which occurred just recently. I ordered two watches online as Christmas gifts for two of my grandsons. The watches were individually branded with the logo and name of each grandson's favorite football team. When the watches arrived, they were both the same and neither was branded with the football teams I had selected. I contacted a support rep from the store via online chat and it was pretty obvious from the outset that the rep struggled with English… what follows is the ensuing conversation.
Support Rep:  Hi, How may I help you today.
Me: (I explain the problem in detail).
Support Rep: So you receive the item but when it arrive, it is faulty?
Me: No, they are the wrong items. Not what we ordered and paid for.
Support Rep: So what is problem?
Me: (I go through the entire explanation again)
Support Rep: So I may get a better understanding of how the item differs from the item ordered, please send me a clear photo of the unit to [email address], and include your name and order number in the subject line.
Me: You must be joking. What do you need photos for? The watches are still in their boxes and plastic sealed. It's quite simple, you sent the wrong items, not the items we ordered.
Support Rep: If we have the photos, then it help us expedite the time frame of the process.
Me: Why would I tell you they are the wrong items if they are not? What could I possibly hope to gain from lying about it? You sent the wrong items… nothing could be simpler.
Support Rep: Okay, I got that. It's fine if you do not provide photos. I will proceed with a collection order but we'll need to check that one first before we can provide a replacement. You like a replacement for that one, right?
Me: There are TWO watches. Yes, I want replacements, the two watches I ordered in the first place.
Support Rep: I will go ahead and process a return voucher for your item.

Me

: Thank you (although I'm still a little concerned that the rep keeps referring to "item" rather than "items")
Shortly thereafter, I received a prepaid postage label via email for the return package. In the end, the correct replacement watches arrived post haste, even before we mailed the wrong watches back. So, although sorting it out involved a somewhat frustrating exchange, the end result was entirely favorable.
Do you shop online? I'm sure many of you who do will have similar tales to tell, feel free to share via the comments.