The latest desktop browser market share figures from NetMarketShare do not paint a pretty picture for the once popular Firefox: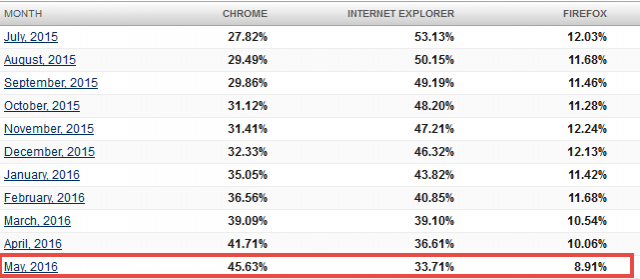 As you can see from the above screenshot, Firefox has been steadily losing ground until its desktop browser market share has finally dropped to a potentially disastrous all time low, now sitting at below 9% and way behind both Chrome and Internet Explorer. The strange thing is that Firefox is a great browser and still popular among more experienced users, so why the dramatic fall off in market share?
Part of the reason is obviously Chrome's rise to prominence. With the help of its ubiquitous search engine and overall internet presence Google has pushed Chrome at every opportunity. Plus Google's browser has generally enjoyed favorable reviews, both editorial and user.
Chrome's success is also probably indicative of your average home user's predilection for simplicity over customization. The big difference being that, since its inception, Chrome has always been designed around simplicity and performance so has naturally attracted users whose preferences tend in that direction. Whereas Firefox built its reputation on a bedrock of ultimate customization, and changing tack with the release of Australis (in 2014) only served to alienate many existing users – prompting headlines such as: "Less Than 20 Per Cent Of Users Like Firefox's New Australis UI" and "Firefox Australis UI revamp sparks complaints, searches for alternatives".
Obviously, at some time, Mozilla looked at Chrome's growing market share and decided that emulation was the way to go – big mistake! There was also a largely silent but substantial backlash over the way in which Mozilla handled the Brendan Eich situation – a decision which also alienated a significant number of long time Firefox users.
Ultimately, Mozilla has headed down a path of its own choosing rather that listening to Firefox's army of faithful users. Whether or not that turns out to be a bad decision, only time will tell, but it sure isn't looking good right now. I can only foresee Firefox's market share slumping even further, especially with the introduction of WebExtentions in the not too distant future.
Is there a way back for Firefox? Or is this perhaps the beginning of the end? What do you think?