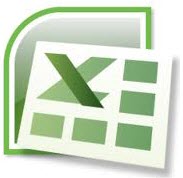 When you have large worksheets in your Excel workbooks it can be cumbersome and time-consuming to move around in them.
This is a slick little trick that has existed in Excel for a very long time, but most folks do not know about it.
Follow the steps below to learn how:
To quickly jump to the end of a range of cells, simply double-click the edge of the selected range in the direction you want to move.
When you double-click the edge of your cell, the active cell will jump in that direction to your last cell until it comes across a blank cell. This works juts like when you hold down your CTRL key and click one of your Arrow keys.
Here's another little trick that can be used to select a range of cells or extending a selection of cells.
Depress your Shift key and double-click the edge of the selected range and the range will be expanded in that direction until it comes to a blank cell.
I think you have to admit that is a pretty nifty trick and it saves time and keystrokes to boot! A win – win situation if ever there was one!
—