BlazeVideo is currently running a Mother's Day promotion including a giveaway of its SmartShow software. BlazeVideo SmartShow would normally sell for $49.95 but is available free for everyone right now… expires 15th May.
BlazeVideo SmartShow – The Software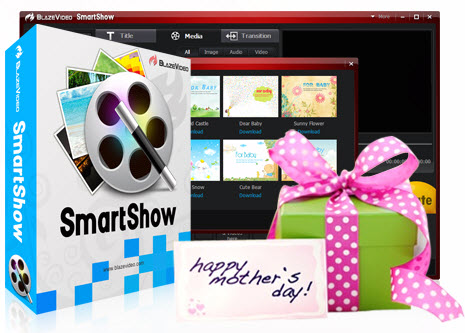 What a Fast and Easy Way to Make Yourself a Special MovieYou can easily mix your pictures, clips and music into an awesome video by simple drag-and-drop operation in minutes.

Easily drag your photos, video fragments, popular music, stylish titles and creative fades into the storyboard.
Liven up your masterpiece with music, abundant fantastic effects, easy-to-use editing tools and more.
Take advantage of stylish titles to impress your audience deeply.
Makes a fluent video by combining multiple clips and pictures with various animated transitions.
Save your movie into all kinds of portable devices for better enjoyment on-the-go.
BlazeVideo SmartShow – The Giveaway
To get your free copy of BlazeVideo SmartShow, simply visit the special promotion page here: http://www.blazevideo.com/promotion/ and click on the Get Giveaway Version button.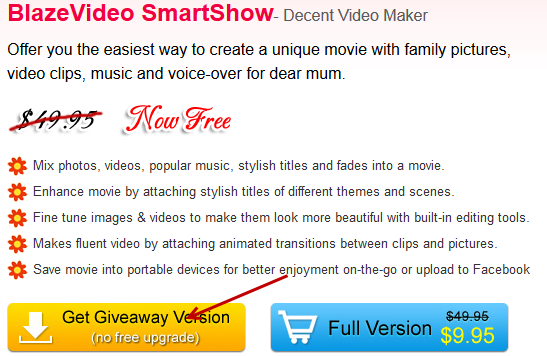 This will initiate a 39.9MB zip download which includes a text file containing your license code.
*The Giveaway Version is not limited except for no free upgrades to future versions.